For many fans, Liverpool conceding one or two goals before half-time is no longer a big worry. They've there before and completed a comeback far too many times. Of course, the best come from behinds are those that involved winning a vital game or tournament.
In this article, we'll travel back in time to look at the best Liverpool wins for punters. We mean victories that should you have wagered on and you would have made some decent cash. Sounds good? Let's dive right in.
Liverpool v Man Utd - Sept 13, 2008
The Red Devils had just won their 17th EPL title. They were in great form and had not been defeated by Liverpool at Anfield since 2001. Everyone expected them to win, including the bookies. 
When the game started, Carlos Tevez opened the score sheet but then a blunder by goalkeeper Edwin Van der Sar and last man Wes Brown led to Liverpool's equalising goal of the game. 
After that goal, Liverpool gained their confidence and pushed for a winning goal with every opportunity they got. In the 77th minute, Liverpool finally got the winner they had been pushing for thanks to substitute Ryan Babel. With that victory, Liverpool broke a four-year losing streak against their big rivals.
Liverpool v Olympiacos - Dec 8, 2004
Predicting a team to win by two clear goals is often a hard task. It's even more challenging in a must-win Champions League game. But that's precisely what happened in 2004 when the Reds faced Olympiacos at Anfield.
In the usual comeback fashion, Olympiacos opened the scoring. And suddenly, the Reds needed to score 3-1 to advance to the next stage of the UCL. To make things worse, the Greek side kept pushing for a second goal. 
In the second half, though, the Reds took control. Substitute Florent Sinama-Pongolle scored the equaliser two minutes after the restart and the team began to chase for a second win. Olympiacos did their best to defend but ultimately conceded a second time in the 78th minute when another substitute, Neil Mellor, fired in from close range.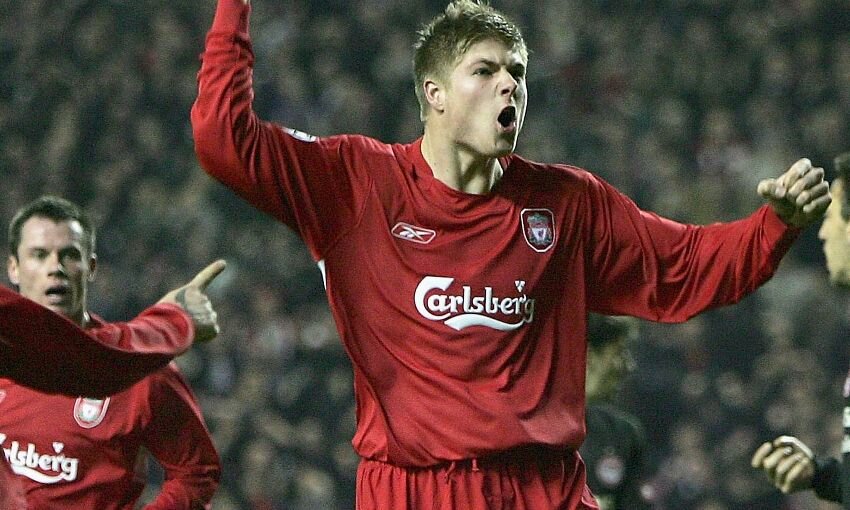 With time slipping away, the Reds needed to score their third goal of the game or their CL campaign was over. It didn't matter who would score or whether it would be great, they just needed a goal. The rest is history, as "a lovely cushioned head by Mellor" was followed by a Steven Gerrard thunderbolt to send the entire crowd wild. What a hit, son. What a hit.
Liverpool v AC Milan - May 25, 2005
May 25, 2005 - it's the worst night for every AC Milan fan and Evertonian. But for Liverpool fans and the rest of the football world, the 2005 UCL Final delivered an improbable miracle. It had never been done before and it will probably never happen again - a team coming back from 3-0 down at half-time to win the UCL title.
In-play betting didn't exist back then. If it did, the best online betting site would have set pretty long odds for the Reds after conceding three goals. And had you wagered at that moment it would have been possible to win five or ten times your stake.
The 2004/05 UCL Final started in possibly the worst way for the Reds. They conceded in the first minute, tried to defend and conceded a second goal in the 39th minute. Moments before half-time, Milan added a third goal. 
And everyone thought the winner was decided. Coach Rafa Benitez claims he never made a big speech during the break. But when the second half started, it became certain that something had happened to Liverpool.
They looked different, sharp and aggressive in trying to reduce the damage. Steve Gerrard scored Liverpool's first goal in the second half. Then substitute Vladimir Smicer scored the second one just two minutes later. 
With only one goal needed for an equaliser, the mission no longer looked impossible. And indeed, Liverpool levelled with through Xabi Alonso, who fired in a rebound after his initial penalty had been saved. After that, both teams fought hard not to concede for the rest of the game and extra time. But the Reds took the bragging rights in the penalty shootout.
Liverpool v Besiktas - Nov 7, 2007
After a miraculous UCL victory in 2005, LFC continued as a dominant force in Europe for the next few years. But when they started the 2007/08 Champions League title push with two losses and a draw, punters were growing impatient.
On Nov. 7, the Reds were meeting Besiktas for the return group game. They had lost away and they had pressure to win this time round. And win they did, spectacularly. The game started on a slow start, though, with the first goal coming in the 19th minute. 
Besiktas fought back but conceded the second goal in the 38th minute. After half-time, Liverpool continued with their dominance, scoring six more goals to record one of the biggest wins in the UCL. To expound more, they also won their next two must-win games to advance into the Round of sixteen.
Liverpool v Borussia Dortmund - April 4, 2016
Many football fans expected this game to deliver something special. And it surely never disappointed. The Reds were coming from a 1-1 draw at the Signal Iduna Park. They needed a home victory to advance into the Europa League semis. 
But after conceding two goals in nine minutes at home, things looked grim. And had you been an in-play punter, you would probably not have wagered on them. By half-time, the scores were 2-0 down in Dortmund's favour.
Then Origi scored in the 48th minute to give the crowd at Anfield a glimmer of hope. Marcos Reus score nine minutes later. And suddenly the Reds needed to climb a mountain for a chance in the semis.
But that's exactly what they did. Philippe Coutinho scored the second goal in the 66th minute. Mamadou Sakho followed with a goal in the 77th minute and Dejan Lovren delivered victory with a stoppage time header. 
Liverpool v Barcelona - May 7, 2019
After winning 3-0 at Camp Nou, everyone expected Barcelona to score at least one goal at Anfield. Even former Reds striker Luis Suarez had already gave out a warning that he would celebrate gracefully in the semi-finals tie. But thanks to goals from Origi and Wijnaldum, Barcelona faced a shock exit from the UCL while Liverpool went on to win their sixth UCL title.