---
A month of poor results had ended the week previously with a much needed victory against Ipswich, despite a dire performance.  As usual The Bitter Bunch had high expectations of beating us at their place and in the process dent our title hopes.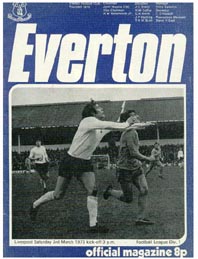 With less than 10 minutes remaining of a turgid match, the only memorable 
incident had been Howard Kendall headbutting Emlyn Hughes' boot and then 
spending the next ten minutes staggering in circles- not for the last time. 
Then Emlyn found himself alone on the edge of the area and incredibly, 
instead of trying to burst the net, took it gracefully round the keeper and 
planted it in the corner. 
Cue the usual Emlyn celebrations which continued well after the restart and were only interrupted by him burying the second. 
This was the result that put us back on track as we cruised to our first 
Championship in 7 years. Nice one Emlyn, nice one son...
 

Season:  1972/73
Opposition: Everton
Result: 0-2
Scorers

: 

Hughes (2)

Venue: 

Goodison Park