---
Well this is a magic moment that is truly up there with any other experienced by any Liverpool fan of any generation anywhere in the world. The way that all reds felt inside Anfield on that night could only (and was only) be eclipsed by the ultimate achievement in the game, going on to win the European Cup.
As a Liverpool fan of 20 years I have to admit to missing out on the majority of our successes, when we last lifted the most beautiful of trophies I was three years old, and when we last won the title I was only 9, so for me the successes in 2001 were as good as it has ever been I suppose.
However, this was to change. I had been present at the conquering of Juventus a month earlier and swore that I would never enjoy an atmosphere and a victory as much inside Anfield ever. I was certain. I was convinced. I was wrong.  The way we had played in that game against Italy's old lady was simply phenomenal, and the goal from Luis Garcia made me feel physically sick with a mixture of delight and disbelief, but as a package this game was soon put into distant memory.
Managing to scrape a ticket on the Kop for the semi final of the European Cup against a team I have learnt to hate so much was the perfect start, risking the sack from my shitty call centre job for pulling yet another 'midweek, champions league sicky' was just a no brainer.  Inside Anfield the atmosphere warmed up and was as hostile and supportive as possibly imaginable. I knew this was going to be special but this was far, far beyond what I could have imagined, and the game had yet to begin.
Optimism was swelling inside of me, blind confidence perhaps, but it was soon given good reason. Only 4 minutes had gone when a wonderful chipped ball by Steven Gerrard sent Baros running through towards the Kop goal and an onrushing Petr Cech. As the two moved closer it was obvious that Baros would get there first and as he did the keeper felled him unceremoniously. As the whole of Anfield screamed penalty, in rushed Little Luis Garcia to collect the ball and hook it goalward.
Now, whether the ball crossed the line may still be debated in years to come, whether I cared will not. As Garcia wheeled away in delight, with as yet no signal from the referee as to whether the goal stood, I was certain as was everyone around me. GOAL.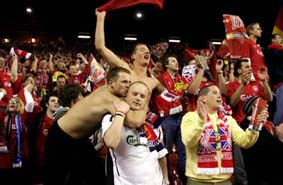 My growing hatred of everything Chelsea has not come from out of the blue, and one of the moments in the long list of wrongs came only a few months ago in Cardiff, where an early lead had forced us to defend for 90+ minutes and the resistance was eventually breached. I hoped that this would not be the same.  The Anfield crowd grew louder although that seemed impossible. The Chelsea players seemed far less comfortable now than they had promised, yet again the 12th man was present and battered the confidence of the newly crowned Premiership Champions.
We had chances, but nothing of real note and Chelsea again bombarded us with all of their expensive might, yet nothing that they threw at us could not be thwarted by the excellent defensive line. Finnan, Sami, Djimi and of course Carra were all phenomenal, and when the 'Special One' realised that belting high balls up to Drogba alone wasn't working, he threw on Robert Huth to help out. Still the efforts of the Chelsea players were futile.
An incredible 6 minutes of injury time were almost up when a long high ball up to the new option of John Terry was nodded down and fell to Eidur Gudjohnsen on the angle of the six yard box, with players on the line, time stood still as he struck the ball goalward, only for the whole crowd to breath one enormous collective sigh of relief as it whistled past the far post. 
Liverpool and Chelsea players fell to the floor as the realisation that we had almost gone out and they had almost progressed passed through their minds. Only a matter of seconds later, a sharp whistle from the referee signalled the start of the celebrations and cemented this as one of those memorable games, a magic moment, to live long in the illustrious history of our great club alongside games such as St. Ettienne in 1977 and definitely in my lifetime, the greatest moment that Anfield has witnessed.
 

Season:  2004/05
Opposition: Chelsea
Result: 1-0
Scorer(s)

:

 Luis Garcia

Venue

: Arsenal