I was on the Kop the night we played Dynamo Bucharest in the 83-84 European Cup  Semi Final, 1st leg and seeing as this was a vital game, nerves were a little on edge, especially as we did not want to concede a goal at home.
Bucharest had a bit of a reputation as being a team of hatchet men, in particular their captain who was nicknamed "The Butcher" and in the footballing circles of the Eastern block had made a bit of a name for himself.   The Bucharest players were more than happy to mix it and if the game were to be played like that today then they would have finished the game with about 5 or 6 players left on the pitch.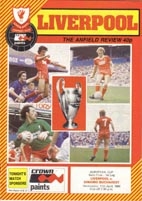 The smallest fella on the pitch (Sammy Lee) scored with a header but the main talking point was what happened to 'The Butcher'.  Midway through the second half, Souey lamped him one in the centre circle. I, along with thousands of others did not even see the punch, all we saw was 'the Butcher' sparko on his way to Walton General with a broken jaw!
In the return leg he was marked out for abuse from the partisan crowd and in the warm up every time he touched the ball he was booed loudly. As a result, the Liverpool players were purposely passing the ball to him and the boos were getting louder and louder.
This was Souey's last season at Anfield before moving on to play a couple of seasons at Sampdoria and he was the hardest player I ever saw play. People talk about Vinnie Jones and Roy Keane being hard men but nobody could compete with Souey.   I want to remember him as a great player and not about his article in the S*n or his bust up with Thommo. We could do with his kind of player in the team now. 
What made it all the nicer was that we won the away leg and went onto lift the cup. Top memories from a top side and a top season!
Darren Grady
 

Season:  1983/84
Opposition: Dynamo Bucharest
Result: 1-0
Scorer(s)

:

 Sammy Lee

Venue

: Anfield