"The dream come true would be to manage Liverpool, when the Liverpool job becomes available."
During the International break earlier this season Steven Gerrard nailed his colours to the mast: He wants to be Liverpool manager one day.
For years the widely accepted opinion has been that of the Scouse, one-club men, Jamie Carragher was the most likely Liverpool managerial candidate of the future. Football-addicted, knowledgeable and vociferous; the consensus is he has the raw materials to make it. He still might. But at least for now, Jamie has side-stepped management and is flourishing and entertaining us in his new punditry role.
Maybe, as a consequence of the natural urge to place the two friends head to head in this hypothetical discussion, people have quickly dismissed Gerrard's potential managerial candidacy out of hand.  His quieter and more reserved character is often cited as a reason why. Similarly, the perception at times has been of a player who looks wearied by the burden he has carried and may just be relieved to leave the game behind him.
Gerrard's words tell us this clearly isn't the case. But he is aware that there is a question mark over whether he could make it and he speaks in 'ifs' rather than certainties. "I want to stay in the game. If I'm good enough, If Liverpool came, I'd love to do that."
It would be rash to completely discount a man this football club has regularly counted on for so many years without properly exploring whether there is a case for the club making his dream come true.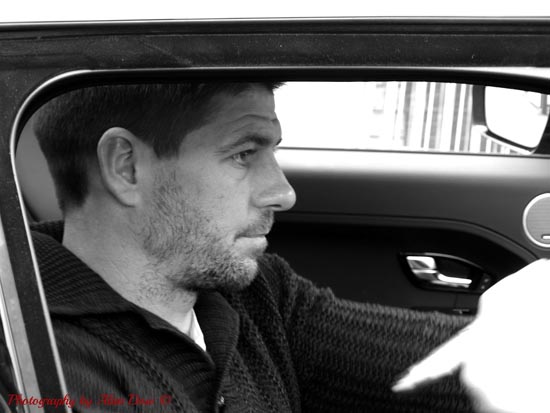 Houllier and Benitez
Gerrard references the various managers he has worked under as contributing to his footballing education, explaining, "I've been studying all the managers since I was a young age, the sessions they do and the tactics, making notes on things, because I love the game."
Arguably Gerrard's most valuable managerial experience could be the exposure to the rise and subsequent fall of both Gerrard Houllier and Rafa Benitez. Both overcame tricky starts to show their credentials by bagging important silverware, before losing their jobs after the team's performances dropped off and missing the opportunity to push on.
It's an old cliché that people learn from mistakes and this can only ring true up to a point. Tony Hibbert isn't the next Bill Shankly because he's spent the majority of his footballing career working under someone as bang average as David Moyes. There's little to learn from the monotonous inevitability of 11 years of failure and crushing defeat after crushing defeat to the Might Reds. But Gerrard has the ability to compare and contrast the changes within individual managers who have tasted both success and eventually defeat.
He was at close quarters as he saw Houllier and Benitez put plans into place which built sides that were difficult to beat. At their peaks, Gerrard would have seen their respective managerial prowess at very close quarters and know what worked well. Conversely, he will also have absorbed the mistakes and what changes took place when things started to slide. For better or worse Gerrard has seen both sides of the managerial coin and can hopefully cash in, banking the diversity of those experiences.
The 'lesser' player problem
The common argument put forward is that great players struggle to become great managers because they are unable to grasp the fact that lesser players can't do what they can. If stories are to be believed, this results in the alienation of players through vein-poppingly angry meltdowns if you're Roy Keane or showboating and simply taking the footballing piss out of your underlings or if you're Glen Hoddle.
However, Gerrard is somewhat unique because unlike many great players he hasn't been closeted in a great team. If there's anybody who has become accustomed to the limitations of those around him it's a man who's shared a pitch with Gregory Vignal, Christian Poulsen and Djimi Traore.
Unlike Keane who was part of a Manchester United team that steam rollered teams with ease and spent his career surrounded by league winners, Gerrard has often had to singlehandedly drag 6 or 7 other players over the winning line with him.
From the outside looking in it doesn't appear that Gerrard has an ego which would blind him to the talents of others even if they are not up to his standard. In training alongside players like Lucas and Henderson, Gerrard has benefitted from seeing how players with less skill than he has can develop given the time and opportunity. Throw into the mix the real quality he has played alongside too like Torres, Suarez, Alonso, Hyypia and Gerrard has spent his career adjusting and reacting to the whole spectrum of footballing ability around him. Knowing how players of all abilities can be put together to make a team could prove a valuable experience in an era where Liverpool lag behind financially.
In the Know
One of the biggest challenges of becoming Liverpool manager is getting accustomed to the enormity of its profile. Of those coming in from the outside Rafa got it, Hodgson didn't and Rodgers looks to be getting there. Gerrard has been the main man for Liverpool for years. The only thing he'll need to get used to is a new job description rather than a new workplace and new expectancy.  
This alone doesn't make him management material. If it did, then it would follow that any player who has worn the red shirt could be manager. If Andriy Voronin, wearing a jacket emblazoned with a Liverbird, ever steps out at Anfield on a sunny day in August, the temperature could instantly drop to minus 10 as the blood of 44,000 LFC fans simultaneously runs cold. 
Gerrard has spent over a decade unshielded in the midst of the topsy turvy shenanigans at the club: Hicks and Gillette, borderline administration, the Suarez fiascos, a court case, verbal abuse, Istanbul, penalty shootouts, near moves to Chelsea, FA Cup wins, burning shirts, the treble, the return of Dalglish, last minute goals…you name it, Gerrard has gone through it all too. He is battle hardened. He understands and is probably no longer surprised by the madness that it modern Liverpool. Most managers come in daunted by the spectre of our history. But Gerrard is part of it and when it comes to all the good stuff he played a significant part in making it. He's already in the know.
The Capacity to Surprise
I once heard someone on TV say, 'When there's always biscuits in the tin, where's the fun in biscuits?' As fans we may all have been a bit guilty of taking for granted the regular treats served up by Steven Gerrard. After a while you stopped being surprised by someone when they surprise you week in week out with show stopping moments of brilliance. But take a step back and really start searching your memory banks for the exceptional things Gerrard has done and he really is a phenomenon. It may be moot point but when somebody is so good at the playing aspect it's hard to believe that their talents can't spill over into other areas of the game too.
Gerrard is starting to surprise off the pitch as well and show a different side. He has been a great leader, doing things by example and saving the day. But in the first few games of the season, and particularly the Manchester United match, Gerrard seems to have found a new voice, getting stuck in verbally and defending his team mates much more than before.      
Furthermore, he is speaking with more gravitas. The short shrift he gave to the idea of Suarez wanting to leave Liverpool for Arsenal was brilliantly bullish; you just can't imagine him saying something like that a few years back.
When talking about managing Liverpool in the future there's a steely determination.
'I definitely see myself as a manager rather than a coach, but that could change. I remember speaking to Jamie Carragher and he really fancied it but he's decided media is what he wants to do. He can leave managing Liverpool to me!"
He may turn that last line into a joke to play down the grandeur of his words. But this light touch does little to conceal the fact that he would revel in the responsibility. To my mind, he means it. 'Leave it to me, I'll sort it.' It's just a natural progression of what he's been doing on the pitch.
Ask not what Gerrard can do for you…
Whether Gerrard can be a successful Liverpool manager of the future doesn't just lie with the player though; it is vitally important that the club lay the right path and give him a chance to succeed.
A quick comparison of Dalglish's and Souness' transitions from Liverpool player to Liverpool manager is testament to the need for stability. When Dalglish stepped into the managerial hot seat in 1985 little changed behind the scenes. Bob Paisley was still on hand to offer advice to Kenny as were boot room stalwarts Ronnie Moran and Roy Evans. A year after starting the job Kenny was carrying the league title under one arm and the FA Cup under the other. On the other hand, Souness  tore down the boot room and started prematurely axing experienced players like Pete Beardsley, Steve McMahon and Ray Houghton. Voids weren't filled, momentum was lost and we still haven't recovered.
This is why the coming years are key. Together FSG and Brendan Rodgers aren't expected to replicate the same success and stability achieved between 1959 and 1990, but if they want to give Stevie a fighting chance they need to ensure he is appointed at a time when there is some semblance of calm and wholesale changes aren't needed. You only need to look at what happened to Alan Shearer when he was thrown in at the deep end at Newcastle and asked to save them from relegation to see that a star name alone can't save you. It's vital that FSG never use Gerrard in such a negligent way. 
FSG need to retain Gerrard's services at the club in the period between the end of his playing days and the start of his managerial career, if it occurs. Gerrard has been at Liverpool all his life and has only ever dined at football's top table. There is nothing to be earned in him slumming it out in the lower leagues mixing in circles and conditions that are alien to him and wouldn't adequately prepare him for coming back to a job as Liverpool's manager. It's more important to keep him in the loop of the inner workings of Liverpool and give him the experience he needs either at Reserves level or as part of the first team coaching set up. 
As a Democrat, John W Henry will be familiar with the words of John F Kennedy's inaugural Presidential speech of 1961. "Ask not what your country can do for you; ask what you can do for your country." It would be well worth FSG adopting this when considering how treat an asset like Stevie with due care and when preparing him for management. For once Liverpool need to be thinking, "Ask not what Gerrard can do for our club; ask what our club can do for Gerrard" It's the least he deserves. Do this and we could all reap the rewards.
The Dream
Gerrard says managing Liverpool would be a dream. This doesn't just apply to him. Imagine this: The boyhood Red brought up through the club who led us to Champions League victory against all the odds. He builds on years of success as second in command to Brendan Rodgers before being promoted to manager and wins Liverpool the league for the first time since 1991. 
Excuse me while I wipe the tear from eye. Liverpool fans are called delusional. I disagree with this. I just think we are brave enough to dare to hope and stick our heads above the parapet. You stop hoping and you stop enjoying footy; it loses its purpose. 
Gerrard may or may not be cut out to be Liverpool manager. But while there's a glimour of a chance that he could be, the potential of the endless joy it could bring and the new history that could be written is just too much to ignore.
Gerrard stands on the steps of St George's Hall, hands aloft...
It's worth a punt isn't it!
Neil Poole