---
You're not dancing anymore!
Liverpool 4 Arsenal 2  (8 April 2008)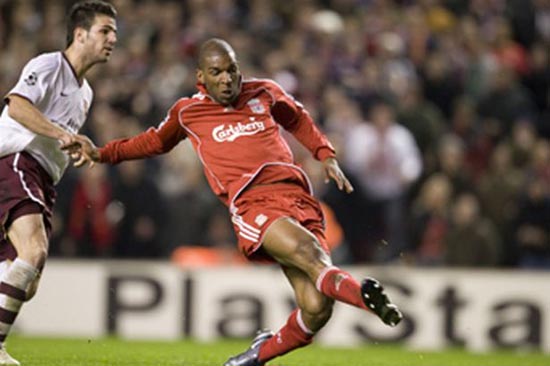 There have been so many great European nights at Anfield over the years and whilst this one probably doesn't make the top five in that category, it certainly makes this particular 'Arsenal related' top five, for the comedy value alone.
With the tie finely poised after a 1-1 draw at the Emirates, Arsenal rolled into Anfield and immediately took hold of the game.  They were brilliant in the early stages and Liverpool found it difficult to get near them.  Abou Diaby put the Gunners in front and it wasn't looking good for Rafa's Reds.  Slowly but surely though Liverpool began to slow Arsenal down.  The relentless pressing of Dirk Kuyt and Javier Mascherano began to tell and Liverpool started to get a foothold in the game. 
Sami Hyypia equalised with one of the best headers Anfield has seen - remarkably it was the Big Finn's third goal at the quarter final stages of the Champions League - and Fernando Torres blasted in a stunning goal at the Kop end to put Livepool ahead.
With eight minutes remaining Liverpool were caught cold from one of their own corner kicks, as Theo Walcott led a frighteningly quick counter attack that saw him sprint away from four would be tacklers before teeing up Emanuel Adebayor for a tap in.  It was a real gut punch for the Reds and the sight of Adebayor dancing away in front of the travelling Arsenal fans merely rubbed salt into the open wound.
Amazingly though, from the kick off Liverpool launched an attack that saw Ryan Babel do his best John Barnes impression and dance past a couple of defenders on his way into the box before being tugged back by Kolo Toure.  Penalty!  A quick look to the halfway line saw a distraught Adebayor with his head in his hands.  Ha!
Mr Reliable Steven Gerrard stroked home the spot kick and with Arsenal desperately pushing for the goal they needed to avoid elimination, Babel hit them on the break when he outpaced Cesc Fabregas and slotted the ball past Manuel Almunia in front of the Kop.  A hell of a night.
---
Four minute hat-trick!
Liverpool 3 Arsenal 0  (28 August 1994)
http://www.youtube.com/watch?v=bowtKlXfi0w
There were a lot of similarities between the Liverpool of this period and the Liverpool we see now.  The football was vibrant and attacking, there were goals aplenty combined with defensive vulnerability and a superstar striker making headlines for both his goalscoring exploits and an unfortunate habit of landing himself in occasional hot water.
The game was played in front of a reduced capacity as there was building work taking place on the Kop.  Those who couldn't get a ticket will have been cursing their luck as the prodigiously talented young Robbie Fowler set about dismantling the Gunners in record time.
With 26 minutes on the clock the game was still goalless.  When the clock reached 31 minutes it was 3-0 to the Reds, as in the space of four minutes and thirty three seconds Fowler blew Arsenal away with the fastest hat-trick in Premier League history.  None of the goals were anything special, they were just routine for a lethal marksman such as Fowler.  The first was a snapshot after the ball dropped to him in the box.  The second was a typically accurate shot that squeezed in past the far post (so many of Fowler's goals nestled perfectly in the corner) and the third he scored at the second attempt, keeping his composure after David Seaman had kept out his initial effort.
Hang on, I've just realised that this was almost 20 years ago!  That can't be right, surely?  *counts on fingers* No, it is.  20 years ago this year.  That's seriously depressing.
---
N n n n n nineteen!
Liverpool 5 Arsenal 1  (8 February 2014)
Arsenal were top of the league, we were in fourth place eight points behind.  The Gunners had been a difficult opponent for us since Brendan Rodgers had taken charge of the Reds and they had beaten us with relative ease in this fixture the previous season.  We'd also been outplayed in a 2-0 loss at the Emirates earlier in the campaign and this promised to be a tough test.
Except it was over inside 19 glorious minutes.  The unlikely early hero was Martin Skrtel who opened the scoring in the first minute when he bundled in a Gerrard free-kick before he almost ended up going face first into the advertising hoardings in front of the Paddock after a somewhat overly exuberant knee-slide goal celebration.
Skrtel then headed in goal number two from a Gerrard corner before Raheem Sterling and Daniel Sturridge both got in the act against the shell shocked Londoners.  There were numerous other chances in that opening 19 minutes too, not least a stunning shot from Luis Suarez that crashed against the post.  It was the fastest start Liverpool had made to a game since four goals were fired past Leicester inside 12 minutes in the 1960s.
Sterling added a fifth early in the second half and although Arsenal managed a late consolation from the penalty spot, they knew they'd been on the receiving end of one of the best performances seen on these shores in many a year.
---
Mellortime!
Liverpool 2 Arsenal 1  (28 November 2004)
Probably my favourite ever Anfield moments this.  It was a great game, we played really well and had taken the lead through a classy Xabi Alonso goal only for Arsenal to level through Patrick Vieira.  A draw would have been a good result for us on the day, Arsenal were top notch back then and we were still finding our way under new boss Rafa Benitez.
With a striker injury crisis, Neil Mellor was the only fit centre forward available and did a great job as a lone frontman, keeping both Sol Campbell and KoloToure occupied all day.  Then, with time about to expire, Chris Kirkland launched a ball forward towards Harry Kewell.  He went up for the header and got cleaned out by Campbell, but Mellor seized on the loose ball and immediately leathered it first time towards goal.  Long range shooting wasn't something the young goal machine was associated with, but he caught this one perfectly and the ball hurtled towards the far corner of the net, swerving inside the post and beating Jens Lehmann all ends up.
Anfield went mental, the players went mental, LFCTV commentator Steve Hunter went way beyond mental and ended up losing his voice (see attached youtube clip).  For Steve and myself the goal probably meant more to us than most as we both knew Mellor personally and had travelled all round the country together covering him for the youth and reserve teams.  Mellor even gave Steve a wave up in the commentary box as he left the field.  Everyone at that game came out of the ground absolutely buzzing though, it was a great day to be a Red.  I defy any Liverpool fan to watch a clip of that goal without smiling and getting a warm glow inside.
---
1-0 down, 2-1 up!
Liverpool 2 Arsenal 1  (12 May 2001)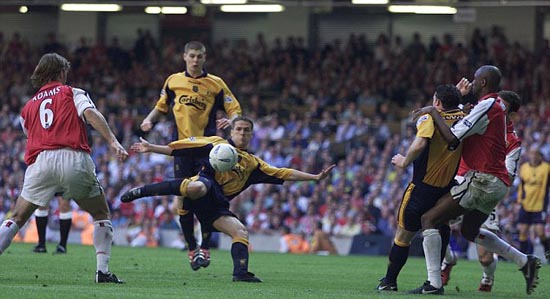 This was on it's way to becoming one of the worst days of my life.  It was baking hot, which for most people is a good thing, especially when you've got the luxury of being able to stand outside having a few pints before the game.  For fanzine sellers though... well it's not ideal. 
For three hours I'd toiled outside the Millennium Stadium but I may as well have been trying to sell Everton shirts for all the success I had.  It was daytripper central, if I was asked "is that the programme?" once I was asked a hundred times.  There were even so-called Liverpool fans wearing hats with the S*n logo on that had been given away free by the rag that day, and as with any cup final there were thousands of people there who had no right to be.  Have to look after 'the FA family' though eh?  
Still, all that would be temporarily forgotten once the game started and we got stuck into Arsenal.  Except we didn't get stuck into them, we couldn't get near them.  Arsenal ran rings around us for most of the game and the only surprise was that they only had one goal to show for their dominance.  For that we had our two goalkeepers to thank.  Sander Westerveld and Stephane Henchoz both made one great save apiece, although Arsenal seemed to object to Henchoz parrying away Thierry Henry's blast at the near post.  Clearly the Gunners aren't aware of the 'goalie when needed' rule for Liverpool in cup finals.  Evertonians could have told them about that after Jocky in the '84 Milk Cup Final.
Arsenal battered us for most of the game, big Sami made three goal-line clearances but Freddie Ljungberg eventually made the breakthrough with 19 minutes left.  Westerveld made a stunning save to deny Henry and Gerard Houllier sent on Fowler and Patrik Berger for Danny Murphy and Vladimir Smicer to try and breathe fresh life into his side, who were offering nothing at this stage.  One of the worst feelings you can have as a football fan is when your side doesn't show up on such a big occasion as a cup final.  You travel all that way, you look forward to it for weeks, there's that sense of great anticipation on cup final morning, and then the game starts and the players are just not at the races.  It's a horrible feeling and this was shaping up to be a thoroughly depressing day.
But then out of nothing the ball fell at the feet of Michael Owen from a Gary McAllister free-kick and suddenly it was 1-1.  Arsenal couldn't believe it, neither could we.  How could we possibly be level in a game in which we'd been so comprehensively outplayed?  Funny old game eh?
With everyone now settling in for a period of extra time, Owen had other ideas. Berger lofted a ball over the top into space for him to chase, and he outpaced both Tony Adams and Lee Dixon and then rolled a left foot shot past Seaman into the far corner. From the depths of despair to the height of ecstasy in the space of eight minutes.  "1-0 down, 2-1 up Michael Owen won the cup, when a first class Paddy pass gave the lad the ball, poor old Arsenal won fu… erm, nothing"
Dave Usher