Newton's third law of motion states that for every action there is an equal and opposite reaction.  I'm not sure exactly what that means, but I'm guessing what this Newton fella was getting at, is that for every Sebastian Leto there has to be an Abel Xavier, for every Bolo Zenden there's an Anthony Le Tallec. 
So without further a do (excuse the pun), here's five of the worst haircuts ever seen on LFC players. . . 
---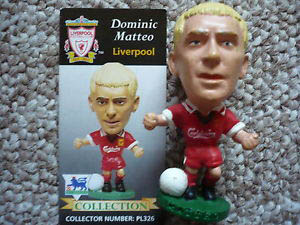 5 Dominic Matteo:  In the summer of 1995 Matteo and his good pal Robbie Fowler went on a lads holiday and decided to bleach their hair.  "Why does Matteo make the list but Fowler doesn't?" I hear you ask.  Well sit tight and I'll tell you.  Robbie Fowler didn't make the list because he's Robbie Fowler. Matteo makes it because... well, he's not Robbie Fowler.  

 

Regardless of whose idea it was, the impression was always going to be of Matteo riding on Robbie's coat tails and being the Gary Neville to Fowler's David Beckham.  Poor Dom though, most of us can just forget about any bad barnets we've had, but his was forever commemorated with his own very special blonde haired Corinthian figure. 

 
---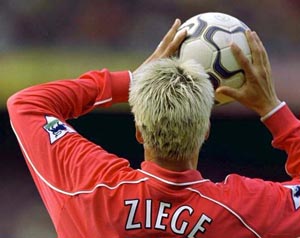 4 Christian Ziege:  He's had a few dodgy ones, some of them when he was with other clubs.  His skinhead was bad, combined with his pock marked complexion he could easily have passed for an extra from Aliens 3. 

 

The mohawk he had whilst playing for someone wasn't cool either, but the bird poo look he had during the treble season was simply horrific, matched by many of his performances.  He looked like a bad guy from a Die Hard movie, but unfortunately John McClane never showed up to deal with his punk ass, so Gerard Houllier had to make do with confining him to the bench.  

 
---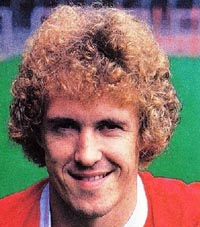 Phil Neal:  A number of players went for the permed look back in the day.  Terry McDermott and Graeme Souness are the most obvious ones that spring to mind, but they both pulled it off, quite spectacularly in Terry Mac's case.  It looked right on them, they suited it.  Phil Thompson had it too, and he looked relatively ok with it as well, in fact he looked like Fabricio Colloccini's dad. 
When Phil Neal followed suit, however, the results weren't pretty, he looked like he should be playing bingo rather than football.  In Phil's defence, he realised this fairly quickly as it didn't last too long.
---
2 Raheem Sterling:  Whilst certain allowances can be made based on the fact he's 18 and therefore doesn't really have much of a clue (I had a horrific 'Stevie Nicol gone wrong' spiked hedgehog look in my teenage years, it was grim), this is so utterly ridiculous that age simply isn't an excuse.  Just what on earth was he thinking?  
Thankfully this was only pre-season and by the time the big kick off arrived he'd seen sense and chopped it all off.  Can't help fearing that another follicle related disaster is just around the corner with this lad though.  He's a bad barnet waiting to happen.
---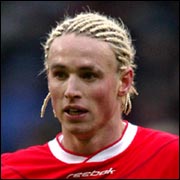 1 Anthony Le Tallec:  The undisputed king of the bad haircut.  He could quite easily have two or three separate entries if this list had been made from haircuts rather than the individuals.  The frizzy bleached blonde with black roots coming through was bad, but this one topped the lot.  Cornrows on a white guy only works if you're Kenny f'in Powers.  Anthony Le Tallec is not Kenny f'in Powers, and not only did he have cornrows, he committed the other cardinal sin of bleaching his hair. 

 

Bleached blonde cornrows on a white guy who is not a surfer living in Oz???  In terms of fashion faux pas, this is white socks and sandles.  It says everything about Le Tallec that he's remembered more for bad haircuts than for anything he did on the field.  A real shame as the boy had genuine talent. 

 
---
Dishonourable mentions: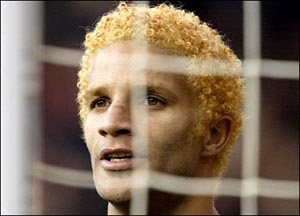 David James:  Far too many dodgy barnets to mention, but most of them were from when he was with other clubs.  He also had some boss haircuts as well to be fair, he could be quite the style icon when he got it right.  His hairstyles are a microcosm of his career, very erratic, sometimes top drawer and other times completely embarrassing. 

 

Abel Xavier:  He wasn't at Anfield long enough to display some of his worst haircuts, but he still stood out like a sore thumb.  If you're a good player you can get away with looking a little different to everyone else.  Like John Barnes wearing his tights for example.  I don't remember anyone laughing at him, because he was John Barnes, football genius and one of the greatest players to ever lace up a pair of boots. When you're a bit rubbish, however, you should be looking to blend into the background and hope no-one notices that you're a bit rubbish, you should certainly not be drawing extra attention to yourself like Bruno Cheyrou in his white boots or Xavier and his Santa Claus look.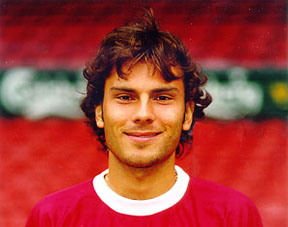 Patrik Berger:  Now hold on, hear me out.  Patrik Berger had beautiful hair and generally belongs nowhere near any conversation about bad haircuts; no-one is more aware of that fact than me.  However.... he stupidly chopped it off in 1998, presumably in a bid to get Roy Evans to notice him and stop leaving him out in favour of Oyvind bloody Leonhardsen.  Whilst he was still a handsome son of a gun with his shorter hair, it was almost criminal that he'd deprived the world of his wonderful, flowing locks.  Like Samson, he lost something when he did it and he was never the same until he grew it back again.  

 

 

Footnote:  You may be wondering why there is no place on this list for Djibril Cisse.  It's quite simple, Djibs may well have had some outrageous hairdo's but they never looked outrageous on him because he was more than cool enough to pull off whatever look he wanted.  Much like Dennis Rodman in the NBA, Cisse would come out with some crazy hair colours, blue, green, leopard skin etc and no-one would even raise an eye brow.  That's because they had style. 

 

Cisse was the man, he got married in a bright red suit, and was once spotted walking around town in a 1980s silver LFC away shirt.  He's a true style icon, the Lord of Frodsham, he can have his hair however the hell he likes.

 

Dave