Warrior's latest efforts at designing kits have yielded… uneven results so far. With that in mind, let's have a look back at the five worst away shirts the players have had the misfortune to wear. Even the most hardened red could be forgiven for not wanting to fight for some of these shirts.

Couple of rules, shirts that were released as third kits aren't included in this. Third shirts weren't very prevalent before 2004 but there's enough in there to cover those on another day. So for this feature, we're just using shirts that were originally released for use as away shirts. Also, I'm not including this seasons as that's just too easy. So counting down…
---

Number 5: 2007/2008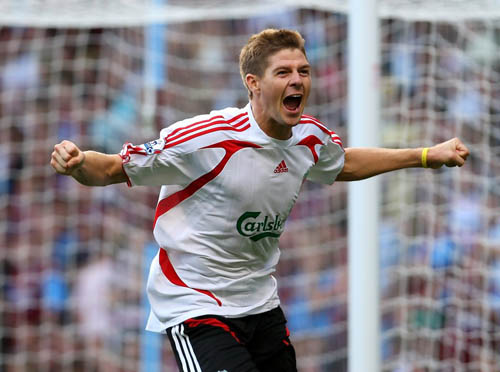 Some shirt designs on this list are here because they're outrageously terrible; this one is on here because it's so unbelievably bland. First off, it looks more like a training shirt than a match shirt, that's your first red flag. Second of all it has that horrible mid-90s thing of having Liverbirds woven into the fabric, if you're going to do a throw-back this isn't the thing to pick.
What makes it's blandness more galling is that adheres to that classic fan favourite design of red on white with black shorts, yet somehow Adidas managed to make it completely unmemorable. I bet you don't even remember this shirt. I'll bet your looking at it now, thinking "Oh yeah, I don't really remember that". Being bad is never a good thing but being boring? Even worse.
 
---
Number 4: 2002/2003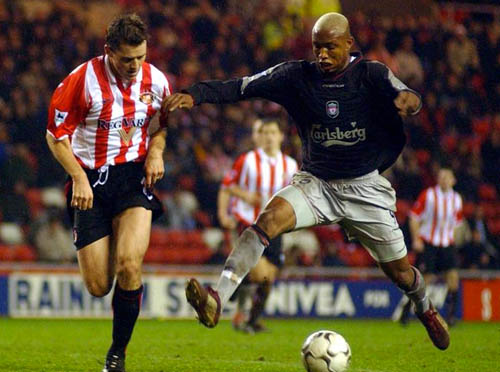 Everyone associates players with different shirts. The first Reebok home shirt we ever had? That's the Paddy Berger shirt for me. Well this shirt is the *deep sigh* El Hadji Diouf shirt. Also known as the season where things started to go badly wrong for Houllier, this shirt reminds nearly all who see it, of struggle, toil and a useless number nine. We got had off by Valencia in the Champions League this season, got beaten by Celtic in the UEFA Cup and were dumped out of the FA Cup by Palace.
Granted we did win the League Cup by beating the Mancs but every thing else was a turd sandwich. Adding salt into the wound, Reebok tried to make out that this kit was inspired by our classic grey away strips of the late '80s, despite it being predominantly black with a bit of grey on the arms. Nice try, Reebok, no wonder you don't make kits no more.
 
---
Number 3: 1999/2000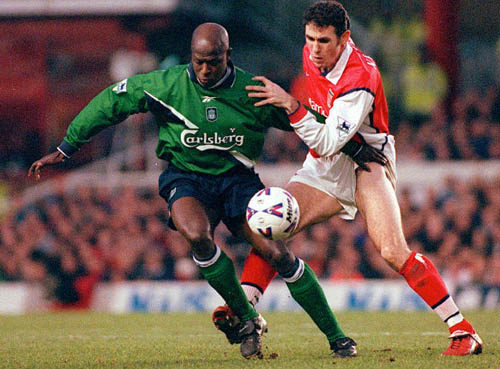 Most people celebrated the millennium in style. Liverpool saw it in looking like Swamp Thing. Most famous for being worn as we were beaten by Bradford as they saved themselves from relegation, this kit is the Titi Camara kit. Also worn as Titi scored a winner at Highbury against an Arsenal team that was, back then, irresistible.
It's a terrible design though, in fact it's a stock design as Bolton had exactly the same shirt except that was navy and red. There's nothing to like in this kit as it also started the weird Reebok trend of making the club badge (the most important item on the shirt) tiny. It also had a lot of navy blue on it and considering the furore supporters kicked up over that Adidas third shirt with blue on it, this one gets off lightly on that scale.
 
---

Number 2: 1993/1994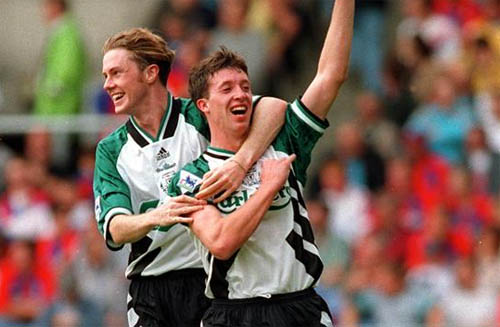 The '90s might have been kind for the popularity of football in Britain but they weren't kind to football kits. Some of the worst crimes committed to polyester occurred in the '90s and Adidas were one of the biggest culprits. Now in fairness, football kits weren't as big business then as they are today, but that doesn't fully excuse some of the horrendous designs that were put out.
Adidas has always loved dabbling in stock designs and this kit is the stock design used for the '94 World Cup. Everyone from Bulgaria to Sweden was wearing a variant on this shirt. What's also strange is Adidas's desire to stamp the three stripes all over the place. Gone is the elegant trefoil logo of the '80s to be replaced with 'Adidas Equipment' block stripes that look like they've come out of a sixth form design school. It's a mess at a time when the club was becoming a mess that it's never fully pulled out of in the league; just foul.
 
---
Number 1: 1992/1993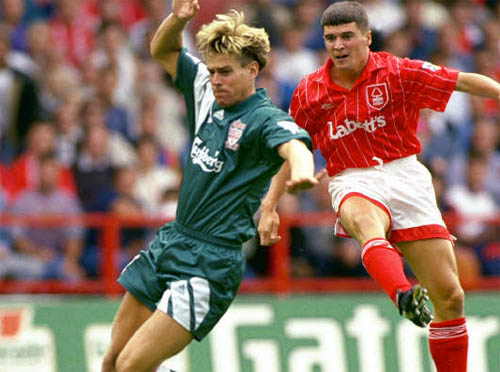 But not as foul as this beast. Worst thing about this is that it was more or less the same design as the year before but with a few tweaks to make people buy it again. No one really knows why the club introduced green to the away kits (at least I don't) but it's not a great colour for a football kit when you play on a green pitch; and boy is this thing green. Once again Adidas just went nuts with the design, imposing their three stripes all over this kit like a fat person trying to fit into a seat in the Anny Road.
 
It has a ridiculously huge collar too but the main difference on this kit to the previous year, was the introduction of the centenary badge. Reducing the Liverbird to a prisoner in a Shankly gates prison, this badge stayed on the club's shirts until last year when the Liverbird staged a breakout not seen since Tango and Cash. There's no redeeming features of this shirt, it's horrible; from design to material to the people who were running around in it on the pitch (see above!). Wretched.