---
Anthony Le Tallec (2003-08)
What a massive letdown this lad was. 'Tony Le Talent' as he was dubbed turned out to be anything but. 'Le Gem' was actually a 'fugaze'.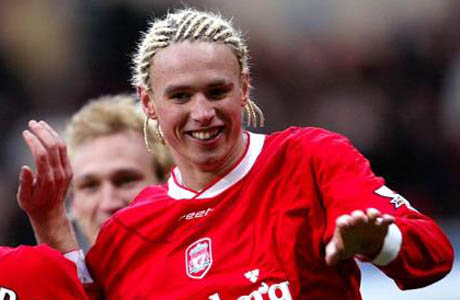 Like every other Red, I was hugely excited when Gerard Houllier pulled off what looked like a massive coup in persuading Le Tallec and fellow wonderkid Florent Sinama-Pongolle to come to Anfield. We'd all seen and heard what they'd done at youth level in French football, and it seemed like every club in Europe wanted them. Yet it was Houllier that landed them. Happy Days! At least so it seemed.
They were signed in 2001 but stayed at Le Havre to gain more experience before eventually coming over to England in the summer of 2003 amidst much fanfare. Le Tallec's debut in a pre-season friendly at Crewe did nothing to make those present think he was going to be anything other than completely ace, but it was all downhill from there. Whilst Pongolle never lived up to the hype that had accompanied his arrival, he was a useful little player that made a contribution when called upon.
Le Tallec on the other hand, was a constant source of disappointment. He managed just one goal in 32 appearances. In fact, the only thing of any real note he did in his entire time at the club was to provide the pass from which Luis Garcia scored that memorable goal against Juventus in the Champions League quarter final in 2005.
We couldn't sell him because his salary was so high no-one would touch him, so Le Tallec ended up having loan spells at Sunderland, Saint Etienne, Sochaux and Le Mans before eventually joining Le Mans permanently when his Anfield contract expired. He later joined Auxerre and is currently playing for Valenciennes.
Most of his time at Liverpool was spent in the reserves and it's fair to say he wasn't especially popular with his team-mates. Whereas Sinama-Pongolle was liked by the majority of players in the reserve set up, Le Tallec was viewed as being arrogant, aloof and seeing himself as being too good for the reserves.
I actually have an amusing Le Tallec story. I was at the Academy for one reserve game, it was Jari Litmanen's first game for the club and Robbie Fowler was also playing. I found myself stood just yards away from Houllier, and witnessed him giving Le Tallec - who wasn't playing but turned up to watch - a quiet dressing down. On a freezing cold night ALT had strutted over wearing some ridiculous hip-hop style tracksuit and a floppy sunhat. He obviously thought he looked the dogs bollocks but GH thought otherwise, and was more concerned about the dangers of one of his players catching a cold. Houllier pulled him to one side, sternly whispered something in his ear and off Le Tallec went, tail between his legs, into the Academy building.
A few minutes later he returned, looking a little sheepish, wearing some scruffy old coat that was several sizes too big for him. The swagger had gone from his walk, and I later found out that Houllier had told him to go and ask for a coat from lost property. He could have simply made him wear a club coat, but presumably GH wanted to bring him down a peg or two, which he certainly did.
---
Dani Pacheco (2007-13) 
If I had a quid for the amount of times I heard people calling for Pacheco to be given a chance in the first team... well I wouldn't be wasting my time writing this crap.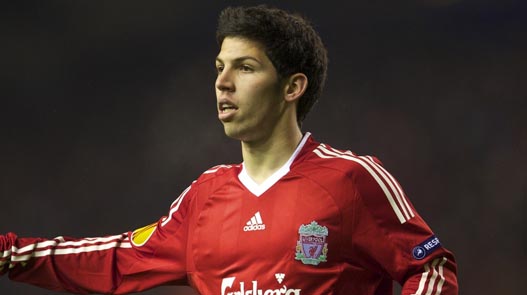 Pacheco is a word class highlights player. By that, I mean if you watch highlights of any game he plays in, you'll see him do something really good and think "aye aye, this lad is a player".
Unfortunately when you watch him play for 90 minutes you see exactly why he never got much of a chance in the first team. Dani played under four Liverpool managers and none of them gave him much of a look. That tells it's own story. He had numerous loan spells too, but none of those teams wanted to take him permanently either.
Nice lad, always smiling, very well liked around the club, did a good job for the reserves but didn't really develop his game much from the time he arrived to the time he left. He was almost as good a player at 16 as he was at 23.
---
Mark Kennedy (1995-98)
 The signing of Kennedy in March 1995 seemed a strange one at the time and so it proved.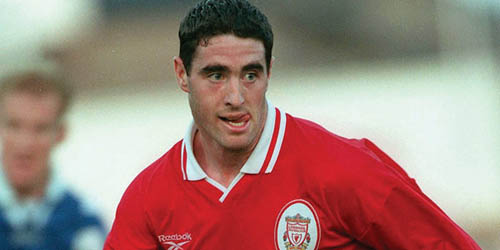 Roy Evans had switched to a 3-5-2 system and had been scouring Europe for a left wing back. He'd taken several looks at Bordeux's Bixente Lizarazu but opted against signing him, with reports at the time claiming that he viewed the French international as being 'too small'.
Given that Evans' system did not have room for natural wingers, eyebrows were raised when the Reds splashed out an initial £1.5m (potentially rising to £2.3m) for Millwall's exciting teenage left winger Kennedy. That deal made Kennedy the most expensive teenager in British football history at the time.
The youngster made his debut for the club in April 1995 when coming on as a substitute in a home defeat against Leeds United, and he almost made it an occasion to remember with a thunderbolt from 30 yards that crashed against the crossbar at the Kop end. That was as good as it got for Kennedy.
He never established himself in the first team, making just 21 appearances in 3 years (the vast majority of them as a substitute) and also found himself in the newspapers for the wrong reasons, with reports that he was a little bit too fond of a pint.
Kennedy left Anfield in March 1998 to move to Wimbledon, and then went on to have spells at Man City, Wolves, Palace, Cardiff and Ipswich before calling time on his career in 2012.
---
Lee Jones (1992-97)
The 'new Ian Rush'. Lightning quick and from Wales, the comparison was always going to be made. Unfortunately that's where the comparison ended.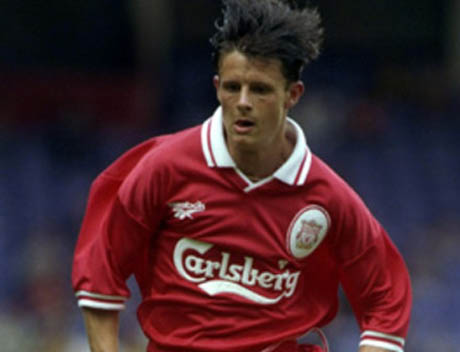 Signed from Wrexham as an 18 year old for the then not insignificant sum of £300k in 1992, Jones only made four substitute appearances for the Reds before leaving for Tranmere Rovers. I always remember that one of those substitute appearances was against Arsenal in 1996, he came on along with fellow half pint Davie Thompson and as the two of them scurried onto the field I remember thinking that they reminded me of the chipmunks.

 

I liked Lee though, I saw him play a lot for the reserves and he was a cracking little player, very exciting to watch. Unfortunately, he always seemed to pick up injuries at just the wrong time. Any time it looked like he was close to getting a first team chance, he'd pick up an injury and would be back to square one. He twice suffered broken legs during his time at Liverpool, and had other injuries too. A shame, he may actually have been good enough had he stayed injury free.

 
---
Wayne Harrison (1985-91)
Much like Jones, his Liverpool career was blighted by injuries but unlike Jones he was unable to drop down a couple of divisions and at least enjoy a long career in the game. Wayne's career was over at the age of 22.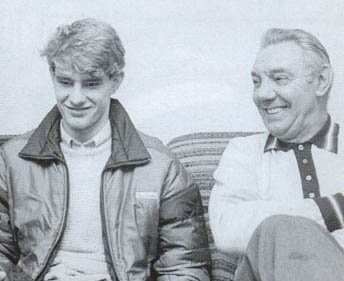 Harrison was the most expensive teenager in world football when Joe Fagan signed him from Oldham Athletic for £250k in 1985. Despite growing up in Manchester, Harrison was a Liverpool fan as a kid who idolised Kenny Dalglish. Had things turned out differently, he could have played alongside him in Liverpool's first team.

 

He looked a real talent in the reserves but suffered numerous serious injuries and never played for the first team. By the time he was forced to call time on his short career in 1991, he had endured 23 football related operations, 12 of them on the knee that would eventually force him to quit.