Evertonians first showed anger at refereeing decisions when they lost the 1893 Liverpool Senior Cup Final, causing the local FA not to present the trophy for fear of a riot. They eventually found it in them to forget that incident but they will never, ever forgive or forget Clive Thomas for 1977. 
They claim they'd have won the FA Cup that year (and dominated world football after that) had Thomas not disallowed a late semi final goal against Liverpool when the score stood at 2-2. As it was, Liverpool got to Wembley after a replay and although we didn't win the FA Cup we were widely regarded as unlucky as a freak Man Utd goal denied us the Treble. 
The semi final 'goal' in question was scored by Brian Hamilton, but was deemed offside and Blues claim it was all part of a plot to make sure the FA got their dream final. This is despite the fact that the world's biggest authority on football, Jimmy Hill, decided that it was definitely was offside when he studied the television replay.
To compound their misery, they were denied a penalty in the replay when Clemence impeded Duncan McKenzie but an indirect free kick was awarded instead. Once again Thomas was the referee in question. They failed to score from this and the Reds won 3-0, with the victory being made even sweeter as our first goal was a penalty that they claim shouldn't have been awarded.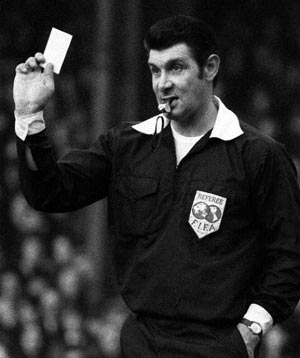 Before and after then there have been refereeing decisions in other derbies that have been contentious, according to them anyway. In 1973-4 Mike Lyons had an early goal disallowed for offside at Goodison and Liverpool went on to win 1-0 thanks to a late Alan Waddle goal.
In the 1983-4 League Cup Final it was claimed that Alan Hansen controlled the ball with his hand to stop an Adrian Heath goalbound shot. They say the referees failure to spot this cost them the game, conveniently overlooking the fact that Graeme Sharp missed an open goal when Grobbelaar dropped the ball onto his head and Peter Reid shot straight at the keeper when clean through. 
More recently, in 1999-2000 Everton claimed to have scored when Sander Westerveld took a free kick that hit Don Hutchison on the back and went in. The fact that Hutchison was about three yards away from Westerveld rather than the regulation ten seems to have missed them completely.
A year later and Gary Mac scored in the last minute from 44 yards. But blues will tell you that it was never a free kick in the first place. The fact that they scored in the game from one of the most laughable penalty decisions ever has been totally forgotten.
But none of these compare with Clive Thomas in 1977. Evertonians continue to recall this incident today, with one man in West Derby, referred to as 'Mr Elephant Brain' by Alan Edge, having mentioned it every day of his life since.
In February 2001 BBC online invited surfers to recall the worst ever refereeing decisions. It came as no surprise to me to see that a Blue, who would identify himself only as 'John from UK' nominated Clive Thomas' disallowed goal.
It really rankles with them and in the excuses they give as to why they are shite, this comes a close second to Heysel. 
It's funny how Liverpudlians never moan about the disallowed goal at Highbury that cost us the title in our last game of 1971-2. We just went out and won the league the next year instead. But Evertonians don't know about burying the past and looking to the future. They prefer to blame everyone else for their lack of success instead. Which is why they will always be known as Britain's Bitterest.
Steve Horton