---
Ok, we didn't love him, far from it. But try thinking of Phil Babb with a straight face. Not easy is it? When I think of Phil Babb, I don't think of his solitary Liverpool goal at former club Coventry. I don't think of his total lack of talent, or his stupid shirt hanging out, cycling shorts crappy fashion sense. Well ok, I do think of all of those things, but not before I've thought of something else first. The name Phil Babb instantly conjures up one mental image for me, and it involves Babb, a goalpost, some seriously squashed nuts, and 40 odd thousand Liverpool fans torn between sniggering and wincing uncomfortably.
It says a lot for Babb's general crapness that this is the defining moment of his Liverpool career. He cost the reds £3.6m, which was a record for a defender at that time. He'd had a very impressive World Cup for Ireland in 1994, including a superb display against Roberto Baggio's Italy. Hopes were high when he and John Scales both arrived at Anfield within 24 hours of eachother early in the 1994/95 season. Roy Evans knew he needed to strengthen his defence, and by splashing out so much money on Scales and Babb he showed he really meant business.
It was clear from the start that Scales was a footballer as well as a defender, but Babb just never looked a 'Liverpool player'. The uncomplicated style of the Irish suited Babb's game down to the ground, but at Anfield he was expected to do a lot more than just win the ball and then launch it downfield. Used mostly on the left of the three man defence, he often found himself confronted by the opposition's right winger, and it's fair to say he had some problems, notably when he allowed Andrei Kanchelskis to give him the runaround in a 2-1 derby defeat at Anfield.
The ball was like a hot potato to him, he just never looked comfortable in possession. Playing on the left side of a back three meant that he had certain responsibilities to carry the ball forward, but he just couldn't do it, largely due to possessing no footballing ability at all.
He had some pace, and defensively he did have some qualities, but in terms of sheer footballing attributes such as control, passing, and general skill, Phil Babb is the only Liverpool player that I genuinely believe possessed less footballing ability than me. As much as we often say "oh he's crap, even I'm better than him" deep down, we know it's not true. Someone like Paul Stewart was terrible for Liverpool, but put him in a game with you and your mates and you wouldn't get near him, he'd be different class. I slated Josemi, but I know he's light years more talented with a football than I'll ever be. Babb was different, he really was totally lacking in talent.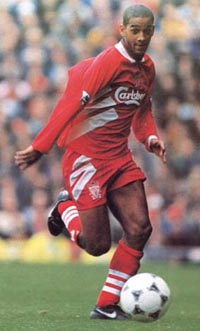 His left foot was his strongest, yet to me his left foot was like Stig Bjornebye's right foot. In other words, totally useless. Babb would play a pass or maybe try a shot with his left foot, and it would just look like a player using his weaker foot. I'm not sure what his right foot was actually like, as I never saw him use it.
When Gerard Houllier took over, there was no way Babb was ever going to survive at Anfield. Houllier was not slow to let players know if they were no longer needed, and the likes of McAteer, Harkness, James and Ince all moved on. Babb however, chose to sit on his arse picking up wages for doing nothing. Say what you like about Paul Ince (and I usually do), but at least he had enough professional pride to find himself another club when he was told he was not needed at Anfield.
Not Babb though, oh no. He was quite content to see out his contract, even though he was not even considered for the reserves such was his abysmal attitude. Tranmere took him on loan, but he was so bad that they couldn't wait to send him back. I remember watching a Tranmere game on TV, and noticing that Babb had actually developed a little pot belly under his baggy shirt. No wonder he never tucked it into his shorts.
He must have had a good agent though, as once his Anfield contract had run down and he'd milked the club for every penny he could, Babb somehow he ended up getting a move to Sporting Lisbon. His time there was fairly short lived (no doubt they couldn't believe how they'd been duped into signing him), and he returned to England with Sunderland. He was crap for them too.
Another thing I didn't like about him, was that he was far too cocky for someone of his ability. He embraced the whole 'Spice Boy' thing perhaps more than any of the other players, and was always spotted out on the town. He was on astronomical wages for someone so crap, and it's galling that one so completely lacking in talent made so much money out of our club.
I have a funny story about him come to think of it. He was once sent off in an away game (at Forest I think), and that night my mate saw him out in town. For some reason, my mate decided to go and talk to him (the ten pints he'd had may have had something to do with it!), so he wandered over to Babb (who was stood with other players, Collymore and James possibly if memory serves me correctly), and asked "I heard you got sent off today Phil, what happened?" Babb replied "Well the referee pulled this red card out of his pocket and told me I had to leave the field, so I did". Now to be fair, that amused me greatly as it made my mate look a bit stupid and it was a funny line, but at the same time I'm thinking 'cheeky arrogant prick, who are you to be acting cocky when you're the worst footballer I've ever seen in a red shirt?'
If Phil Babb were a tv show, he'd be 'Last of the Summer Wine'. An absolutely terrible, lame excuse for a comedy, that somehow managed to become known to everybody and land a primetime slot on a Sunday evening. The major difference between Babb and 'Last of the Summer Wine' would be that I've never laughed at 'Last of the Summer Wine'.
Phil Babb played 170 times for Liverpool Football Club, and that saddens me greatly. A disgrace to his profession, it says a lot about him that he will best be remembered for crushing his bollocks against the post in a failed attempt to stop a goal that he had caused.
The only good thing about Phil Babb was the 'match of the day' song we had for him, "Babb Babb Babb Babb Babb Babb Babb Babb Babb, Babb Babb Babb Babb Babb Babb" That was class, he was not. He should have been called Phil Bad, or better still, Phil Shit.
Dave Usher