Follow TLW
Follow @theliverpoolway



0
"Scouse XI" by Keith Perkins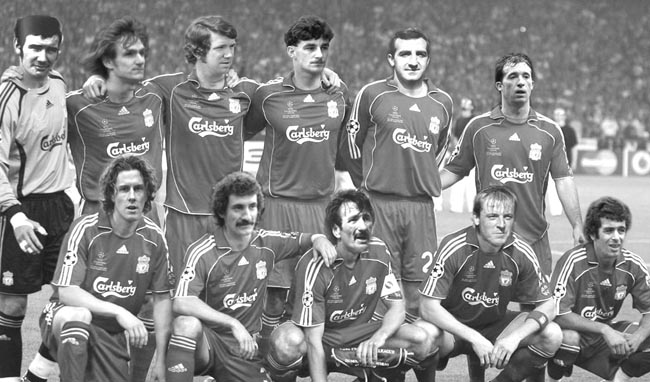 One popular pastime for Liverpool supporters (and in fact for supporters of any team) is to come up with an all-time best eleven, or some fantasy squad of players that have a common theme among them. For us it's almost too easy, with so many great players to choose from, and the only problem seems to be too much choice and who to leave out rather than who would be best to put into a squad.
So, to make it a bit more interesting, I've set myself a challenge to see what kind of Liverpool squads can be formed with various themes, and see how the side takes shape in each case.
The idea for this first squad came to mind recently when Rafa had been talking about the importance of keeping British, and especially locally produced, players in the squad to balance out the players brought in from overseas. If we look back just a few years, say before the beginning of the Premier League, it was unusual for a non-British player to make an appearance for Liverpool or for any other Football League club.
As time went by, the changes that resulted from the formation of the European Union and the laws allowing for the free movement of labour, combined with the Bosman ruling, brought many more players into the league from overseas.
That drastically changed the style of play of most of the top clubs as they competed for and brought in the best talent that all of Europe had to offer. But, most clubs were determined to keep a strong core of home grown players, as well as working towards nurturing young local talent for the future through academies, centres of excellence, and so on. If we take up that idea of a core of local players, why not go all the way and form a team entirely made up of locally raised lads?
So, for the first of what will be a continuing series, I'm going to attempt to come up with a complete team of Scouse players. That should be pretty easy as there have been a lot of them over the hundred plus years of the club's history, but I'll restrict it somewhat and make it a bit more interesting by only allowing players from the modern era (Shankly and more recent) and not allowing any of the current squad to be selected.
That unfortunately rules out two of the best ever in my opinion – Jamie Carragher and Steven Gerrard - but those restrictions will narrow down the choices to something more manageable. So let's see how this works out. . . .
Goalkeepers
: I ran into problems right from the start here, as I could only find two Merseyside born goalkeepers to have made first team appearances – Billy Molyneux, who played one game in the 1964/65 season in place of Tommy Lawrence, and Frank Lane who played two games, in September of 1972, in place of Ray Clemence.
I can't really include Tony Warner, who spent 120 games watching from the bench, but never played once. He was David James's understudy, and was reserve 'keeper for the 1996 FA Cup Final. I'll have to take Lane first, as he made twice as many first team appearances as Molyneux, who'll be on the bench.
Defence
: This is fairly easy, as long as I'm careful to pick a balanced back four. I'll go with Gerry Byrne on the left, Tommy Smith and Phil Thompson in the middle, and Chris Lawler on the right. That looks like a good combination of steel and speed at the back, with the potential for a few goals whenever they push forward on set pieces or overlapping runs.
Another one that I could put in the squad as a possible substitute would be Mike Marsh who made 101 appearances, and was in the side that won the FA Cup in 1992. There's also Gary Ablett, Ronnie Moran, and Roy Evans, but I'm going to leave them until later as you'll see.
Midfield
: This gets a little more difficult with so many to choose from. I'm going to sort through a long list of great players from Ian Callaghan, Terry McDermott, Steve McMahon, Jason McAteer, David Thompson, Steve McManaman, and Jimmy Case.
That's a tough one to sort out, but having a soft spot for Ian Callaghan as one of my earliest heroes, I have to start with him on the right, then with Terry McDermott and Steve McMahon in the middle, and finally with Steve McManaman sort of on the left but with a more free ranging role as necessary. I could also mention Sammy Lee, but he's another one with other plans in mind.
Strikers
: First choice for a guaranteed goal scorer is John Aldridge. Second choice for a guaranteed goal scorer is Robbie Fowler. Or should that be the other way around? I don't know how these two would work together, but wouldn't you love to see it? Both of these players are ready to give their all for the club, and as supporters we can't ask for any more than that.
There's also David Johnson who made over 200 appearances and scored plenty of goals, but I can't put him in without leaving one of Aldridge or Fowler out of the starting XI.
Substitutes
: I'll assume this is a squad for the Premier League, where we are allowed to have seven players named as substitutes on the bench. The trick is to have a good balance of players to choose from, while meeting the requirements of this particular side.
The first choice should be no surprise as David "supersub" Fairclough is ready to come on for that all important late winner if needed. After him, Howard Gayle is ready to add some pace on the wing if that looks like being productive, and I also have those unused players already mentioned, including Mike Marsh to bolster the defence, and Jimmy Case to strengthen up the midfield.
Up front there's the option of David Johnson, and for some youth I can add Lee Peltier, a youth/reserve team player who only recently left the club. I'll go with some kind of balance and select Molyneux, Marsh, Peltier, Johnson, Case, Fairclough, Gayle.
Manager
: Joe Fagan. It could have been Roy Evans, or I could have gone with Phil Thompson who acted as manager while Gerrard Houllier was recovering from his heart surgery, or Ronnie Moran who acted as caretaker manager on more than one occasion. But, Thommo is already in the side as a player, and for the other two see below. Besides, I'll go with Fagan as he was the most successful of all the candidates, winning three major trophies at the end of his first season in charge.
Staff
: The legendary boot room philosophy is extremely helpful here as there is a long list of former players who joined the coaching staff after their playing days were over. Ronnie Moran, Roy Evans, Sammy Lee, Doug Livermore, Phil Thompson, and others were all local players who stayed with the club in one capacity or another.
Assistant Manager
: Doug Livermore. Again, it could have been several others but I'll go with Doug who was a player from 1967 to 1971, and was an assistant manager under Roy Evans and Gerard Houllier from 1994 to 1998.
Coaches
: Ronnie Moran, Sammy Lee, and Roy Evans. This is where the talents of these three come into play. All three of them are dedicated coaches and have all proven themselves under more than one manager.
Physio
: Phil Boersma. When Bob Paisley took over from Bill Shankly, Phil Boersma left Liverpool for Middlesbrough in December 1975. After a broken ankle brought his playing days to an end, he went into coaching and physiotherapy. He filled that role for Graeme Souness at Rangers, and then at Liverpool from 1991 to 1994.
Of course we can only imagine how such a squad would be able to compete in the present day, or in fact in any era. But, having a look at the side that I've chosen, with a top quality starting eleven and a good reserve squad ready to step up when the need or the opportunity arises, then I'd say that they'd have a good chance of winning silverware – as most of them already have.
Keith Perkins