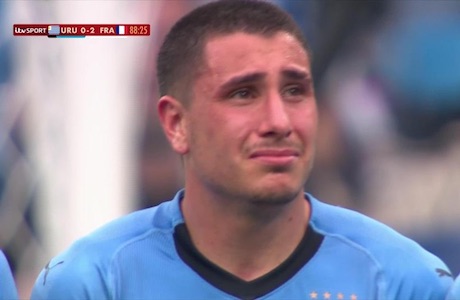 So we're down to four. Three of whom would have expected to be in with a real shout of being there, and one that has gotten there off the back of beating a few pub teams and needing pens to beat a Colombia side minus it's best player. The one decent side they faced beat them.
I'm fully aware that I'm sounding like a bitter Blue here, but it is what it is. England in this World Cup is giving me the same helpless feeling I had watching United in the Europa League a couple of years ago, when they kept getting one crap team after another.
England beat Sweden comfortably enough and there were some good performances from them, not least the Mackem pair of Hendo and Pickford. Both were outstanding. Have to feel for Sunderland really, they had more current/former players in the last eight of the World Cup than Real Madrid. They've had some decent players pass through there, but they were usually surrounded by dogshit so didn't stick around long.
As poor as Sweden were, Pickford still needed to make three crucial saves (two of them top drawer) to stop them getting back in it. Yet I'm seeing people talk about this England side like they're 1970 Brazil. They aren't, they're a workmanlike group that are very adept at set-pieces and that's seen them through so far.
The fuss about Harry Maguire being a case in point. He's alright, I'm not saying he's shit as I've thought he was a decent player for a while. He's not Bobby fucking Moore though. Other than Falcao (class player but his legs have gone) he hasn't faced any striker of note in this World Cup yet his reputation has sky rocketed.
It doesn't help when Phil Thommo is banging the drum for us signing him. Why on earth would we do that? Putting him in our system would be like throwing a goldfish in a Piranha tank. And in case anyone has forgotten, the man people want Maguire to replace is having a pretty good tournament and he's proved he can swim with the Piranhas (as long as he's got the big shark alongside him).

I keep thinking "they're fucked as soon as they come up against anyone decent" but the problem is that hasn't happened yet. They haven't played anyone decent and now they face a Croatia side that has had to go to extra time and pens twice in a week. If the Croatian lads can even stand up straight when they play England I'll be amazed. I'm already steeling myself for them reaching the final. Fucking nightmare this.
Worryingly (for those of us not of an England persuasion), Croatia haven't been much good since the group stages. They were class against a wretched Argentina side but otherwise they've barely done enough in their other games. I really thought they were going out against Russia when they conceded that late equaliser. It felt as though Russia just had destiny on their side.
It's felt like that all the way through this tournament actually, they've been punching well above their weight since the opening game. When they got that last gasp equaliser in extra time it just seemed like their name was on the trophy, or at the very least they would make the final. Then I saw who was taking the first pen of the shoot out and I thought 'ok, maybe not'.
That Smolov bum is the worst player in the tournament. I spent most of the Spain game absolutely cursing him for his shitness and he was no better in this game when he came on. He's just terrible, a walking disaster. Whatever dosage they'd given him, they should have trebled it.
This is just a teaser, click here to view the full article
Please note, World Cup Round Ups are only be available to TLW subscribers. Subscriptions cost just £2 a month (you need to register first, registration is FREE) and can be purchased here.