Saturday Jun 30…

Lucas Vasquez? Presumably he has the same agent as his fellow bench warmer Asensio, because I reckon there's as little truth in this rumour as the laughable "£160m bid" we put in for Asensio last week. We do need another wide forward but it's not going to be either of these two, not when Shaqiri is available for a pittance.

Celtic want Harry Wilson but the word is we aren't keen on letting anyone go there because Brendan bullshitted Chelsea and City over loan players last year and then didn't pick them, so now nobody wants to do business with him. I suspect our relationship with the new Rangers boss will also make it more difficult for Celtic to get any of our kids, especially when Gerrard is keen on the 'Welsh Salah' too.

There's no point letting Wilson go up there though, he'd score eighty goals in that league as he's fucking boss. He'd get 25 in the Championship providing he was at a decent team. I'm not sure he's ready to compete for a spot here yet, but he might be and I really hope he is. Whether he stays here or not depends on if we sign Shaqiri I reckon. No room for both of them in the squad.

Sunday Jul 1…

Pre-season starts tomorrow and Buvac won't be there, which tells us what we knew already. He's not coming back. Nor should he really. Whatever his reasons, he walked out at the worst possible time for us and that's got to be difficult for Klopp to get past. I'd love to know what their relationship is now, whether they've even spoken since he left. It's all very sad really. Leaving the ramifications to LFC out of it, they've been mates for years so this is a shitty situation for them both.

Southampton are the latest club linked with Ings. It's going to be interesting to see how much we get for him if he leaves. If it's Southampton the price needs to go up given how hard a bargain they've always driven with us. The only time we didn't get shafted was with Clyne. There was a 'Liverpool tax' on every other deal we've struck with them so hopefully we take that into account if they want Ings or anyone else.

Meanwhile, in Egypt… someone posted Mo's home address on Facebook and hundreds of fans showed up outside his house. What did Mo do? Came out and posed for photos and chatted with them of course. This world doesn't deserve Mo Salah. More to the point, Mo Salah deserves better than this world. What kind of fucked up world allows that Ramos / Salah thing to go down the way it did. If fans turned up outside Ramos' house he'd set the dogs on them.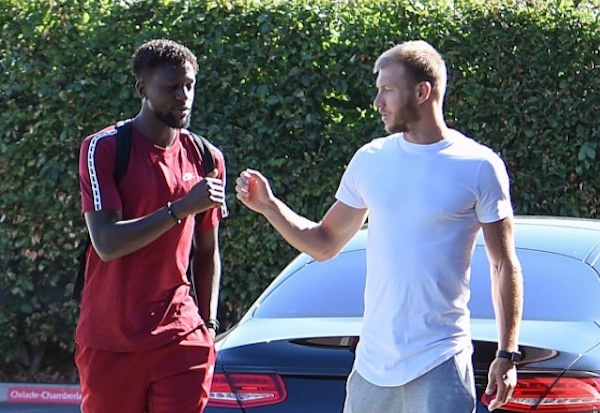 RK: "Paper beats rock. You're rooming with Karius!"
DO: "Wait, best of three?"
This is just a teaser, click here to view the full article
Please note that 'The Week that Was' is only available to TLW website subscribers. Subscriptions cost just £2 a month (you need to register first, registration is FREE) and can be purchased here.