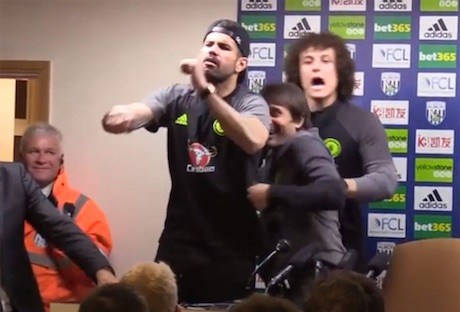 Chelsea clinched the title at West Brom on Friday and then picked up another three points on Monday when they edged out Watford in a seven goal thriller at Stamford Bridge. The West Brom game was close too, as Pulis had his side right up for it and they had chances to take the lead before eventually conceding late to Batshuayi.
There were all kinds of shenanigans going on afterwards though, mostly involving Costa who got smashed on champagne in the dressing room and then jokingly burst in (with Sideshow Bob) to cut short Conte's post match press conference because it was holding up the coach and he wanted to get back to London and party.
Conte then sneaked back in because he'd promised the Sunday papers he'd speak to them, but Costa became increasingly pissed off and had to be prevented from setting off a fire extinguisher. To think I used to hate this fella. Now I just think he's fucking hilarious and I'll miss him if he goes to China this summer. Can't believe I'm saying that, but I will.
He was rested along with a load of other first choice players for Monday night's game and they even took Mongo out of cold storage and gave him a run out.
No surprise that he scored the opener, he doesn't play much these days but when he does he often gets his giant fod on the end of something. He scored this one with his foot, but the giant fod point still stands. He then handed Watford an equaliser, which was not a surprise either as there's a reason he doesn't play much these days.
Chelsea went 3-1 up with goals from Azpilicueta and Batshuayi, but Watford surprisingly didn't lie down and came back again through Janmaat and Okaka.
Prodl had been lucky to escape a red card earlier for a terrible tackle, but it looked like he was deliberately trying to get sent off as he picked up a second yellow, meaning he misses the game against City at the weekend. Stupid man bun headed twat. Probably got his dates mixed up and has a holiday booked for Sunday.
This is just a teaser, click here to view the full article
Please note that PL Round Ups are only available to website subscribers. Subscriptions cost just £2 a month (you need to register first) and can be purchased here. If you are not currently registered on the site, sign up for free and receive a FREE no obligation trial subscription, which gives you access to all the members only content for THREE MONTHS.