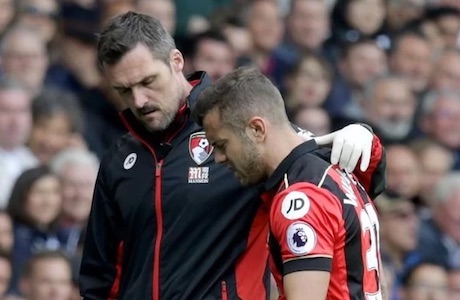 Spurs seem to win every game by three or four now don't they? 12 home wins on the bounce for them after they spanked Bournemouth on Saturday.

Dembele gave them an early lead and Son immediately added a second. Kane and Son did one of those stupid handshake celebrations that Dele Alli is usually a part of, but at least this time Kane was smiling (and Son is never NOT smiling) which reduced the cringe factor by maybe 10%. Still looked like a couple of dorks though.

Kane himself made it 3-0 after the break and even that yard dog Janssen got on the scoresheet in stoppage time. It was men against boys and one of the most one sided games I've seen all season.

Bournemouth were shocking and it says a lot about Ibe that he can't even get on the bench for them now. What a waste of talent, he'd still be playing for us and would probably be in and around the England squad if he had a better attitude, as he was brilliant as an 18 year old.

The worst thing that happened to that lad was getting his new contract as he's done fuck all ever since and will probably be playing in the Championship in a year or two. We should be in jail for fraud having conned Eddie Howe out of £20m for him and Brad Smith.

Staying with Bournemouth, old silly string ankles Wilshere is done for the season. The only surprise there is it happened in April and not November.

When he went off injured the Spurs fans cheered and were criticised in some quarters for it. For example, that fat arsecandle Jonathon Pearce on MOTD called it unseemly. The defence would like to draw the jury's attention to to 'Exhibit A', m'lud….
What goes around comes around. I doubt Wilshere even has any problem with it, as he wouldn't have expected anything else. Spurs fans did nothing wrong, it's not like he was stretchered off unconscious or with a badly broken leg. He limped off with a bit of sore ankle. So much faux moral outrage in footy these days.

This is just a teaser, click here to view the full article
Please note that Match Reports are only available to website subscribers. Subscriptions cost just £2 a month (you need to register first) and can be purchased here. If you are not currently registered on the site, sign up for free and receive a FREE no obligation trial subscription, which gives you access to all the members only content for THREE MONTHS.