Dec 1: Matt Le Tissier reckons we'll need to pay £50m for Van Dijk, and has a little jibe about all the money we've given the Saints. "What happens is that Liverpool pay us loads of money for players and then we take a bit of that money and give it to Celtic. It's a nice little circle! So far, the arrangement has worked well. Liverpool have given us over £100 million over the last three seasons and they still couldn't finish above us last season!"

In other, entirely unrelated news today we're being linked with a £20m move for Celtic's Moussa Dembele. Should have kept your big mouth shut Matt.

Meanwhile, Koeman has to change his Christmas tree after the Bitters saw a picture of it on twitter and went mental because there was red on it. Big Red Ron then posted up a pic of his new tree that was completely free of any red and he laughed the whole thing off, but the question here is did he know? I reckon he did, he's been antagonising the shit out of them for weeks and he's been there nearly six months now, so he'll know what bad cranks they are. Hell, he'll have known that after six seconds.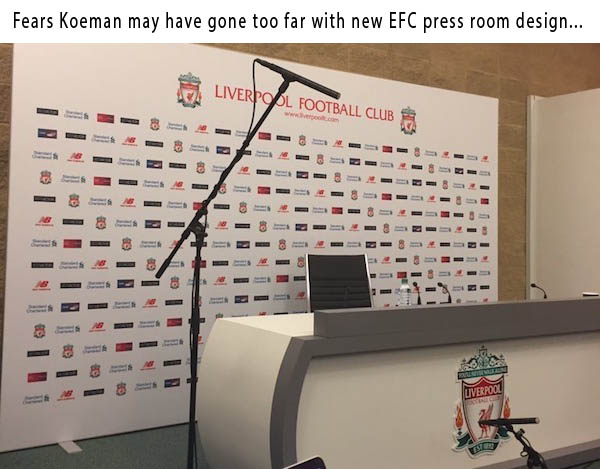 Dec 2: Well here's one out of left field. Michael Beale is quitting the u23 job to join Sao Paolo. Good for him, you've got to admire him for leaving his comfort zone to try something different. He's done a good job here but his departure now conveniently creates an opening for you know who. It's going to look pretty bad if he doesn't get it though isn't it?

Dec 3: Klopp finally admits what has been obvious since the summer and says that Sakho isn't in his plans and will be sold in January. It's a shame, I like Sakho but it's difficult to mount any kind of argument against this. He brought it on himself and the players who are ahead of him in the pecking order have all done well.

We don't need him, and just need to get as much as we can for him and invest it in another forward, but if you were Sakho why would you just jump at whoever makes an offer in January? If I'm him I'd go on loan somewhere and then see what options there are in the summer. I doubt there'll be many takers in January given his high salary and the fee we'd want for him.

Dec 4: Bournemouth 4 L 3 Hello darkness my old friend, we've gone and shit the bed again. I really thought this kind of embarrassing, spineless capitulation was a thing of the past, but obviously not. This could be so damaging to us come May, as these three points were in the bag but we ended up with nothing. Careless bastards, there's just no excuse for this at all.

Dec 5: Klopp flies the players out to Barcelona for a couple of days break, where they will watch Suarez and & play a CL game on Tuesday. Not sure where I stand on this, as the meathead in me thinks they should be made to stay here and do extra training as punishment for yesterday.

Then again, for those who used to play with Suarez this is punishment. "Hey look lads, remember when he used to play with you but then fucked off because you didn't win the league. Look at him now, winning things and shit". Honestly I'd rather be here than Barcelona, I wouldn't go even if you paid me to.

In other news, Stevie does the cup draw and gets us a nice home tie with either Newport or Plymouth. Good lad, now about the under 23s job….
This is just a teaser, click here to view the full article
Please note that the TLW Diary is only available to website subscribers. Subscriptions cost just £2 a month (you need to register first) and can be purchased here. If you are not currently registered on the site, sign up for free and receive a one month FREE no obligation trial subscription, which gives you access to all the members only content for one month.