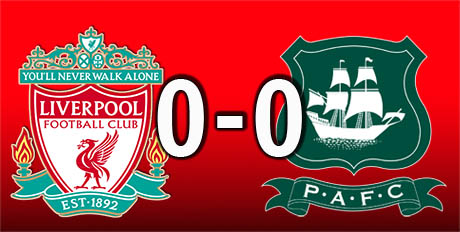 Well that was dull. And by dull, I mean an audiobook of Roy Hodgson reading "War and Peace" dull. Absolutely nothing happened. Literally nothing. Their keeper didn't have to make a save of any note, and ours… well ours might as well have been subbed to get another forward on. Seriously, we could have played "goalie when needed" and Plymouth wouldn't have scored in a month of Sundays.

Did they actually know they weren't playing against our first team? I know they're only League Two, but they're second in that league so they must be in pretty good form and be full of confidence. So to come here and play like that, against a team with an average age of 21 (despite the presence of Lucas!), was just fucking weird.

Why would they not have had a go? It was a risky approach by them and if we played this game ten times we'd win the other nine. They got away with it on the day but it wasn't the defensive masterclass their deluded manager thinks it was. He actually said afterwards this was one of the greatest defensive performances Anfield has ever seen. YOU WERE PLAYING OUR RESERVES, NUMBNUTS.

They've made a few quid so good luck to them, and they got themselves a replay which will earn them another nice payday. If they play like this again they'll lose 3-0. Surely they can't play like that again though? They have to have a bit of a go at home, which will allow people like Ojo and Woodburn a bit more room to play on the break.

I can only remember one counter attacking opportunity in the whole game, and that was when they reluctantly sent some players forward for a set-piece. Karius ended up with the ball in his hands, he bowled it out to Can who just ran it all the way up his own arse.

Obviously even allowing for it being a weakened team this wasn't a good performance and having to now further congest the fixture list by shoehorning in a replay isn't ideal, but it's not the end of the world either. I can even put a positive spin on it if you like, as in terms of experience this is great for the younger players because not only will they get another run out in the replay, but this game was a great learning curve for them.

This is just a teaser, click here to view the full article
Please note that Match Reports are only available to website subscribers. Subscriptions cost just £2 a month (you need to register first) and can be purchased here. If you are not currently registered on the site, sign up for free and receive a one month FREE no obligation trial subscription, which gives you access to all the members only content for one month.