Follow TLW
Follow @theliverpoolway





0
Raised expectations but players should embrace the challenge - by Jason Harris
As we rapidly approach the start of another Premier League season, hope springs eternal for fans all across the football world. For some clubs, just escaping relegation will be hailed as a overwhelming success while others are just happy to be a mid table club year upon year.
For clubs like Liverpool, success is expected but not always achieved. Over the past eight seasons the fans have ridden a range of emotions when it has looked like the club is walking down the right path, only to trip and stumble the following season.
It is something of a blight on the club that we have not finished in the top four in back to back seasons since 07-08 and 08-09. That was the time when Champions League football was a yearly occurrence and the club was rightly seen as one of the top teams in European Football.
Mismanagement by key hierarchy, poor signings and inconsistent performances have defined the club ever since those halcyon days, however in more recent times, momentum has swung in a positive direction.
Since Jurgen Klopp's arrival, the German has brought boundless energy as well as tactical nous to the club which it was crying out for. Performances were initially patchy, but steady progress saw significant hurdles cleared and by the end of last season Liverpool were a club on the rise again. While the job to reach the top four was a significant challenge, in many ways it is only the start of the process.
The next step is to become a top four mainstay and build towards a significant title challenge. Klopp has now taken full ownership of this squad and as a playing group they have given the fan base a reason to believe again which is exciting, but there is plenty more to do. The current Liverpool squad has a number of exciting players who turned on the style for parts of last season but now a bigger challenge awaits.
When expectations rise you get to see what character each individual player has. Two main questions each player should look to answer:
Will they be able to deliver the goods on a consistent level?
Are they able to battle through some adversity and come out the other side a better player?
While the season kicks off away to Watford, a substantial early test of the mettle of the squad will be the two Champions League qualifiers against Hoffenheim. Get through that tough assignment and the squad can prepare in earnest for the return of memorable European nights at Anfield.
The last time the Reds were in the competition in 2014/5, it was nothing short of a disaster as they failed to adapt to the pressure that the competition brings as well as losing focus on their league campaign. Football is just as much a mental challenge as it is physical and technical, and if you are not switched on the season can go pear shaped in a hurry. It is something that Klopp is no doubt aware of and will have strategies in place to prevent it from happening again.
Another interesting aspect heading into this season is identifying who will take a big step forward from our younger brigade. Last season saw academy youngsters Trent Alexander-Arnold and Ben Woodburn integrated into the first team with encouraging results.
Having that experience under their belts will be invaluable for their development as we head into a campaign where there will be much more midweek activity be it in the Champions League or Europa League (perish the thought).
While you can't put an awful lot of emphasis on pre season fixtures other than gaining match fitness, there has been some promising signs by three emerging squad members. One is a new signing while the other two have been riddled with injuries since joining the Reds.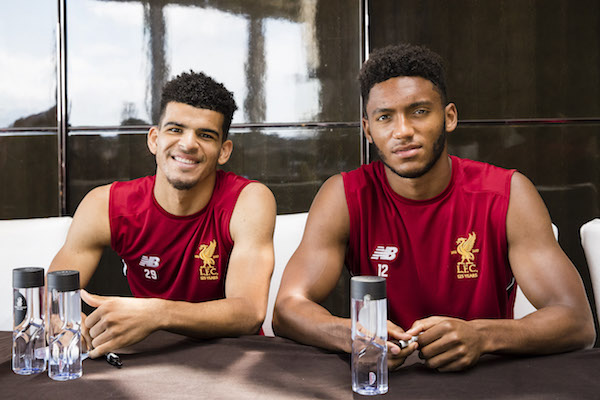 The signing of Dom Solanke has all the makings of a masterstroke as he has all the things you like a striker to have; a mix of power and speed as well as an ability to make good decisions whether in possession or making direct runs into the box.
As the golden ball winner at the U/20 World Cup, the 19-year old has shown that he is not afraid of performing on the big stage. His early form at the club could have a double-edged benefit. As well as being another striking option for Klopp, his performances may also snap Divock Origi into action, as his progress has undoubtedly plateaued over the past 12 months.
Marko Grujic is another player who has shone in the pre season and after a wretched run with injuries, will be hoping to consistently deliver on his untapped potential. The thigh injury to Adam Lallana could be the bit of luck he needs and like Solanke, the powerfully built midfielder stands out in a squad that is mostly made up of lightly framed players.
Finally, Joe Gomez is a player like Grujic who has not been able to get onto the pitch consistently due to injuries. Entering his third full season at the club, the 20 year old certainly has talent but has made just ten first team appearances in the last two seasons. The sample size on Gomez is small, so it is way too early to make long term predictions on what type of player he could be. However with the defence having plenty of question marks, Gomez has an opportunity to stake a claim in the back four and make his mark on the Reds.
While those three players have been highlighted, you can certainly not discount an academy starlet coming through and making an impact, especially as Klopp is not afraid to give them a taste of the action.
Winger Ryan Kent could be a candidate for first team action this year if Klopp decides to keep him at the club rather than send him on loan for another season. The 20 year old enjoyed outstanding campaign at Barnsley last season where he won their young player of the year award.
All fans will have different goals, which they hope to see the Reds achieve. Personally speaking another year in the top four (preferably in the top three), a cup, and a decent run in the Champions League would be considered a definite success.
The next nine months are going to bring a range of emotions to each and every one of us but surely we wouldn't want it any other way.
Let the magic and madness begin.

Jason Harris
@JayHarry80