Follow TLW
Follow @theliverpoolway





0
"Nobody's Perfect- The Trials and tribulations of Simon Mignolet and Loris Karius" by Jason Harris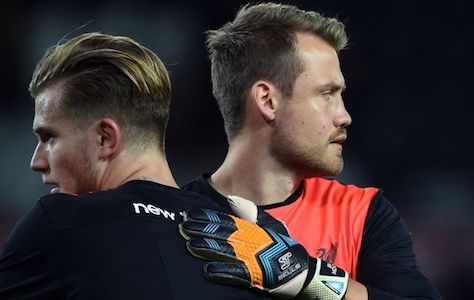 The position of Goalkeeper is one which is scrutinised to the finest degree by pundits all across the country. Basically you have to be very strong of mind and self-assured in your ability to block all of the outside noise, or cut from a different cloth to choose to become one in the first place.
In the past three seasons, Simon Mignolet would rank high on the list of the most discussed Liverpool players. While some may claim that being talked about is a form of flattery and relevance, most of the chatter about the 28 year-old has been of the negative variety.
It is a fact that the Belgian has failed to impose himself as a strong and decisive goalkeeper since his arrival from Sunderland three years ago. While the flaws in his game have been clear to see, in some ways he hasn't been helped by the lack of competition for his position.
By and large Mignolet has been in the comfort zone, knowing that he is the undisputed No. 1 keeper and saw off challenges from Brad Jones and Adam Bogdan with relative ease.
After his arrival in the early part of last season, Jurgen Klopp played his cards close to his chest in regards to where he thought the team could improve. Regularly questioned on the subject of Goalkeeper, the German was incredibly supportive of Mignolet.
It came as somewhat of a surprise in the summer (albeit a pleasant one) that the manager decided to buy a keeper that could give Mignolet some top level competition.
Klopp could have easily gone down the easy road and bring in another "journeyman" who was happy to bide his time on the bench and be appreciative of the playing time he was given.
By signing Loris Karius, he brought in a young and hungry goalkeeper who had been an impressive performer in the Bundesliga for Mainz.
In the back of Mignolet's mind, he would have been in little doubt that he had to go up another couple of levels to keep his competitor at bay.
This season has seen Mignolet and Karius have opportunities to stake their claim for a permanent position, but while the overall play of the team has exceeded all expectations, both players have let their chances go to waste.
When Mignolet lost his spot to Karius after the game against Chelsea, from the outside it appeared that the writing was on the wall for his Anfield career.
To be fair to Mignolet, he had not being playing badly, but Karius had recovered from a hand injury and it was the first sign that Klopp saw his fellow German as his preferred option between the posts.
Like with any new player to the club, there was an air of expectancy about Karius as the Reds haven't had a standout keeper since Pepe Reina was in his prime last decade.
Karius was not duly tested in his first couple of appearances, however there were a few early signs of uncertainty in his game.
Playing for a new team and adjusting to the tempo of a new league were given as probable reasons behind his shakiness, but it all came to a head against Bournemouth.
When you make a mistake in goal, there is no place to hide, you cannot blame an errant pass or a lack of marking for your error.
In one soul destroying moment, Karius was introduced to the unrelenting nature of the English Football media landscape.
The analysis following that ill-timed fumble against the Cherries failed to let up all week and continued after the West Ham game where Karius was at fault for both of the Hammers goals.
As the criticism reached hysterical levels, Klopp made the kind of decision that top managers make an artform of, and took the young keeper out of the firing line.
Mignolet was handed an unexpected lifeline to rebuild his Liverpool career.
You can go two ways after losing your spot in the side. To Mignolet's credit when he was out of the team he refused to give up and drop his head.
He would have undoubtedly put in extra hours on the training pitch looking to fix some of the faults that have plagued him in his Reds career to this point.
In his first two games back as first choice Goalkeeper, Mignolet played his role well, keeping clean sheets against Middlesboro and Everton.
On paper the Merseyside Derby looked to be a real litmus test for Mignolet in a hostile environment but he handled it well, albeit having little to deal with as the Blues registered just one shot on target for the evening.
Despite playing three fewer league games than Karius, Mignolet's statistics measure up favourably.
He registers a higher save percentage, concedes less goals on average per minute as well as having a stronger command of his area through punches and catches.
Mignolet now finds himself thrust back into the limelight with a number of big games on the horizon.
If the Belgian can produce his best performances against Manchester City, Manchester United and Chelsea it will go a long way to not only securing a top four position (and possibly more), it would also ease the doubts some of the fanbase have over this much discussed position in the team.
Mignolet also knows that a poor run of form will ultimately see him return to the substitutes bench and his immediate career at Anfield will be thrown into turmoil yet again.
At this point of time, the right decision has been made. Mignolet is the man for the moment, and it is now up to him to keep his goalkeeping rival at bay.
For Karius, the patience game begins. The predicament of a Number two goalkeeper must be one of the most awkward in all of sports.
You want your team to win, but you know mistakes (and/or injury) present you with a clear pathway back into the starting lineup.
Karius will undoubtedly be cheering wholeheartedly for every Reds goal and victory, but internally will be thinking of ways he can impress the manager and win his spot back.
Discussions are already raging about who the club can look to sign to replace one, or indeed both of the goalkeepers.
What cannot be overlooked is the position that the team is in at the moment.
It is not a time for panic buys and throwing the baby out with the bathwater, as stability is key in this point of time.
Karius at just 23 years old is certainly one to nurture and keep the faith with. While Mignolet is just five years older and approaching his prime as a Keeper.
What is certain is that the battle for the Number 1 shirt will be a fascinating subplot in the second half of the season.
Jason Harris