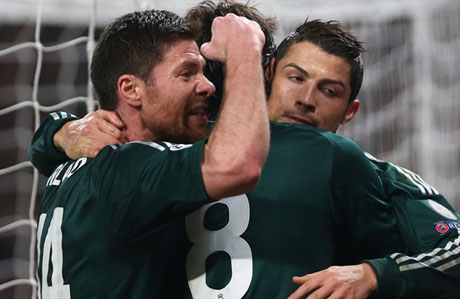 The biggest game of the weekend took place on Sunday in North London, as not so friendly neighbours Spurs and Arsenal faced off at White Hart Lane. The game was huge as far as Arsenal were concerned, a win would have put them right on the heels of Spurs for a top four spot, whilst a defeat would leave them way off the pace and battling to hold off us and Everton for 5th.
The Gunners dominated for large spells but their shitty defence proved their undoing again, as they conceded basically the same goal twice in the space of a few minutes. The only surprise is that Bale only got one of them. Mertesacker headed them back into it but they couldn't find an equaliser and are some way off the Champions League spots now.
As it got a bit hairy late on with Arsenal pushing for an equaliser, AVB was keen to get some tactical instructions on to his players, specifically Jermaine Defoe. He informed the striker what he wanted, but Defoe threw his arms up in disdain and refused to do it. I had a really strong feeling of Deja Vu, but it took me a few seconds to work out why. Then it hit me, 2nd technician Arnold J Rimmer trying to pull rank on Dave Lister only to be met with derision and contempt. Slap an 'H' on AVB's fod and some dreds on Defoe and you'd never know the difference.
Bale had a banana thrown at him as he prepared to take a corner in front of the Arsenal fans. Is it ok to find that funny? I think it is, but as a general rule anyone who throws a banana onto a football field is a fucking lowlife, so I had to question myself when my initial response was to laugh. I think this is ok though, isn't it?
There was a game on Monday night too. City beat Villa 1-0 thanks to a goal from Tevez. Villa are shite and City are a shadow of the team they were last season. I'm struggling to think of a side who won the title one year, didn't lose any key players but dropped off so much the following season. I'm not talking league position or points, they've only dropped one place and points wise they're probably not THAT far off what they were, I'm on about the eye test. Last year I looked at City and thought they were top notch, now I look at them and don't think they're that much better than us.
Back to Saturday's action, and 'Arry took QPR to one of his old stomping grounds in a game both sides needed to win to boost their hopes of survival. Southampton are a few wins away from safety and will have marked this one down as a great chance to move a step closer to staying up. QPR need to win almost every game to have a chance. This was a bad, bad result for Southampton, but I guess having beaten City a couple of weeks ago they were ahead of the curve and this brings them back even again.
Usually Redknapp is guaranteed a warm welcome whenever he returns to a former club, he's done a good job most places he's been and is generally well liked. Southampton is the one exception, he was relegated with them and they were struggling in the Championship too before he walked out to go back to hated rivals Portsmouth, who he not only kept up but got into the top ten and lifted the FA Cup. So yeah, Southampton fans think Redknapp is a bit of a twat, and then some.
I knew he'd get a win from this one though, it was nailed on when the papers were full of stories about his players spending a five day 'training break' on the lash, running up astronomical bar bills and some of them being too hungover to train. That's bad enough, but usually those stories are leaked by some hotel employee; this was a Mirror exclusive quoting three 'unnamed senior players'.
It was pretty damning stuff, painting a horrific picture of what's going on, and basically that group of players daren't have failed to beat Southampton or they may have had a Lazio style "We'll burn your Ferraris" fan invasion of the training ground. So yeah, I expected them to get the three points, but they won't sustain it as seems that squad is full of Neil Ruddock types.
Mind you, 'Arry was having none of it, furiously claiming the story was 'completely full of untruths' and 'completely, utterly, fabricated'. He also said it's the hardest he's ever worked a team in Dubai. That may all be true, I doubt it, but it's possible. Regardless, clearly some of his players have been causing shit in the press as despite the low opinion many have of journalists the fact is a story like that doesn't just spring from the imagination of a sports reporter who wants to make a name for himself. That's not how it works, if they've ran that story it's because someone at QPR gave them it.
Could have been Harry himself, having tried everything else to motivate this shower of deadbeats maybe he resorted to drastic measures. Can't wait to see what he has lined up for next week. "QPR players think the fans are mugs and that Rodney Marsh was shite." Sad state of affairs when Rodney Marsh is your greatest ever player.
Seeing that stuff all over the papers will have definitely put the shits up the players though, and the response was entirely predictable as they put a good shift in and came away with three points. Loic Remy put them in front early on but Gaston Ramirez equalised with a beautifully executed little dink over the keeper who'd only been able to parry a shot by Rodriguez. That finish was dripping with quality, I loved it. It's been interesting to watch Ramirez as he was so heavily linked with us last summer. Overall I don't think he's done as well as I expected but he's clearly a good player.
Rangers grabbed the winning goal 13 minutes from time when Park crossed for Jay 'better than Andy Carroll according to Sam Allardyce' Bothroyd tapped in from a few yards out. That QPR squad represents all that's negative about modern day footballers and they deserve to go down. Having said that, they did provide one of the funniest moments of the season when they won at Stamford Bridge.
And BBC, can we just not bother interviewing Pocchetino anymore? It's like watching 'The Fast Show'. Completely pointless.
Elsewhere, Everton had a comfortable home win over Reading but Moyes was livid afterwards about a 'lack of protection' from his players. His beef was a challenge by LeFondre that forced Jagielka off. Come on, we're not talking Stoke bully boy tactics here, it was little Adam LeFondre with a typical 'forwards challenge'. Moyes said afterwards, "Jags is bad. He's going to get surgery on his ankle to repair the cut. It's a bad, bad gash." Takes one to know one.
Screech headed them in front just before half time and Pienaar's terrific strike doubled their lead. Reading were unlucky not to be awarded a penalty for a handball by Distin. Heitinga was lying on the ground after a tangle with Hunt and Everton wanted the ball put out, but Reading played on and a sliding Distin blocked the ball with an outstretched arm. Replays showed that there was nothing in the Hunt incident at all, Sheitinga was making a dogs dinner of minimal contact. Mirallas then made it 3-0 before Robson-Kanu headed in a late consolation for the visitors, who remain in deep trouble.
Staying with the Blues for a second, what's all this 'Everton aren't we' nonsense. Their fans are saying it all the time lately, they hashtag the thing on twitter too. Someone will say "atmosphere in the away end was boss today" and some other tool will reply "Everton aren't we lad" Or some div will say "See Pienaar's signing a new deal" and it will be met with "Everton aren't we". Makes me cringe. It's part of all that "born not manufactured' tripe they buzz off. In fact, a google search of 'Everton aren't we" brings up a website of the same name, with the slogan "Evertonians are born not manufactured. We do not choose, we are chosen. Those who understand need no explanation. Those who don't … don't matter." I just threw up in my mouth.
Sunderland and Fulham played out an entertaining 2-2 draw up in the North East. Berbatov's ridiculously cool penalty put the visitors in front. Sunderland weren't happy with the decision, but replays showed it was as blatant a pen as there'll have been anywhere that weekend. Riether made it 2-0 after a swift counter attack and Sunderland were in danger of a humiliating loss in front of their own fans.
They were awarded a lifeline when Senderos needlessly tugged at Danny Graham and Gardner buried the kick. Really, really soft penalty, I'd never have given that in a million years but Senderos gave the ref the chance to even it up when he didn't really need to as Graham wasn't getting that ball anyway.
Sessegnon equalised in the second half and Sunderland were denied a clear pen when Frimpong blocked a shot with both hands before rolling around on the floor pretending it had hit him in the face. The ref bought it too, sneaky stuff from Frimpong, but we'd all do it in the same situation, and unless your name is Luis Suarez you wouldn't be criticised for it.
My Mackem brother-in-law was absolutely seething after this one, he's not having O'Neill at all and reckons he's a bad shithouse. He said they had a free kick in the last minute and big Titus was yelling at N'Diaye to get in the box with him, but N'Diaye stayed put and was pointing at O'Neill, who'd told him not to go forward. It started well for O'Neill, but the natives are getting a bit restless after what has been a disappointing season so far.
Moving on, and Chelsea's fans finally gave a rapturous reception to a manager at the weekend. Unfortunately it wasn't their own, it was Chelsea legend Steve Clarke in the visitors dug out. Rafa got the customary boos, but nothing out of the ordinary despite the shenanigans of a few days earlier.
It was a tight game, settled by Ba's first half strike. Olsson had a chance to equalise with the last kick of the game but his terrible shot cleared the bar by some distance. Would have been incredibly funny if that had gone in, but never mind, I'm sure they'll provide more comic relief before the season is out.
Stoke met West Ham in an aerial duel the likes of which has not been witnessed on these shores since the Battle of Britain. The Hammers edged it thanks to a goal by Jack Collison. He's another from the Scotty Parker, Mark Noble school of looking like he could have actually fought in the Battle of Britain. Unlike those two, he's also got an old school name to back it up.
Matt Taylor was knocked unconscious by a Crouch overhead kick to the jaw. Boss the way if you want to kick someone in the head you just need to do it with a bicycle kick and you've got complete immunity from punishment. I hope Luis was taking notes for the next time we face the Mancs. Taylor was replaced by Joe Cole, who this week took time off from licking windows to defend his absolute abortion of a Liverpool career by saying it didn't work out because he 'can only play for teams he's passionate about'. Didn't mind taking 90k a week wages from a club you weren't passionate about though did you? Twat.
He embarrassed himself further with this: "When I joined, the guy interviewing me said 'you've joined the biggest club in the country' and reeled off the trophies they'd won. I just said 'yeah, if you put it like that, I suppose you're right' and Liverpool used that as the headline to the interview. I didn't want to upset anyone so I just went along with it. But obviously they're not the biggest club in the country any more." All well and good, except there's a video interview with him where he says, with no prompting from anyone "when I knew that Liverpool were interested… it's the biggest club in the country so it was a no brainer in the end". A no brainer, a bit like the man himself.
Tony Pulis had his customary moan afterwards, although this one was particularly bizarre. The ball struck a West Ham defender on the hand in the last minute, but it was completely unintentional and only happened as he was caught completely by surprise by a Stoke player mis-controlling the ball (don't know who it was, some lanky streak of blonde piss I've never seen before) and it bouncing up and hitting him on the hand. Maybe he should have been punished for actually thinking one of those Stoke cloggers had some semblence of ability to be able to trap a ball, but the referee correctly waved play on.
Pulis rightly made the point that sometimes you get them and sometimes you don't, before then saying: "The problem we have at this club is that everybody knows what a great atmosphere it is and what the crowd are like. Sometimes referees come down and referee the crowd and not the games." Wait, what? I thought having a noisy crowd is supposed to help you get decisions, not work the opposite way. And besides, it's the Brittannia Stadium, not the fucking Bombonera when River Plate come to town. What a dick.
According to newspaper reports Stoke are interested in signing Shelvey. Bet it was his tackling that caught their attention.
Pardew took his Nouveauchâteau Uni (credit to Newport from the forum for that one) side to Swansea, no doubt hoping the Swans would follow the recent trend of sides winning the League Cup and then seeing their form completely fall off a cliff. Didn't happen though, Laudrup's side rode their luck at times but showed a good attitude and edged it 1-0 with a late, late goal from Luke Moore.
We saw both sides of Cabaye in this game once again, a shithouse late challenge on Dyer that could have earned him a red card, and then a brilliant 30 yard shot that Vorm tipped onto the bar. Snide. Bet he ends up at Arsenal sooner or later, they love those kind of players.
Finally, the Mancs unsurprisingly beat Norwich at home, but it wasn't quite as comfortable as the 4-0 result suggests as it took a couple of late goals to put a bit of gloss on the scoreline. Norwich keeper Mark Bunn was in the wars early when he dived at the feet of Van Persie and took a boot to the chest for his troubles. Outrageous, he could have killed him.
Kagawa's scruffy goal in first half stoppage time put United ahead, but they had to wait until 14 minutes from time to get a second, Kagawa nonchalently rolling in a pass from Rooney. Lovely finish that. The two combined again for Kagawa to bag his hat-trick three minutes from time and Rooney wrapped it up with a scorcher in time added on. Two assists and a brilliant goal, but he was dropped for the Real Madrid game and now there's talk of him being sold in the summer. Hope so, it'll be their loss.
Speaking of United losses, how about that Real Madrid game eh? It's not them getting beat that's funny, it's the way it went down and the complete lack of class and dignity they showed in defeat. Evra got right in the refs face and Ferdinand was in there too, sarcastically clapping the official. Well they do say that teams generally reflect their manager, and there's no finer example of it than these fuckers. One of the funniest things I've seen in ages was an incredulous Ferguson running down the steps to confront the fourth official after Nani's sending off. It was like, "You can't do that, don't you know where you are?"
I love how foreign refs aren't intimidated by United and don't give them the kind of preferential treatment they get domestically. They just can't handle it when refs don't favour them, as it's not something they are used to. That whole 'we're Man United we'll do what we like' isn't just a chant, it's a way of life, and when something like this happens they have no idea how to deal with it. Some 18 year old United fan from Nottingham actually phoned the police about Nani's red card because he felt 'a crime' had been committed. Think about that for a second. What a fucking knob.
Ferguson was apparently 'too distraught' to talk about it. Aside from your own team winning, is there anything more pleasurable as a football fan than the idea of that cunt being too distraught to talk? Well, I suppose him being too distraught to breathe tops it, but not much else does. Makes me feel all warm and fuzzy inside.
The fact it was Arbeloa who milked the Nani challenge just makes it even funnier. Well in Bob lad. Ronaldo getting the winner further adds to the comedy element, even if he refused to celebrate it. Didn't matter, Xabi was quickly on the scene to do enough celebrating for both of them, giving it the big fist pump in front of the manc fans and yelling at them. Love it. Also loved Mascherano's comments before the game "Since they cannot both lose I have no preference"
Of course we then had to listen to a few days of nonsense about how 'the game was too big for a Turkish referee' and 'the trouble with referees is that they know the rules but they don't know the game'. Ah fuck off with that shit. Yeah the red card was a questionable call, but it wasn't an outrageous one. It was more of an 'orange' card for me, refs are going to either give a red or yellow for it, depending on their interpretation. Most of the time you'd get a yellow, but he wasn't exceeding his authority by sending him off.
Whilst they're crying about that they are conveniently forgetting about the Madrid goal that was wrongly disallowed and the red card that Rafael got away with. They don't get mentioned because those favourable calls are expected, it's the norm, how it's 'supposed to be'. It's when one goes the other way they go postal as they just aren't used to it.
I admit got a massive kick out of it and I make no apologies for it. I don't buy this moral high ground bullshit that because we're not even in the Champions League we aren't in a position to laugh at the Mancs. Even if we were in the Conference there's nothing wrong with enjoying a United loss, especially one that comes in such hilarious circumstances.
If it had been a routine 2-0 Madrid win where the Mancs had been comprehensively beaten without anything contentious happening, I honestly wouldn't have even given it a second thought. I'd be glad they lost, obviously, but I wouldn't be celebrating as I honestly wouldn't give that much of a fuck.
However, anyone who can watch the reactions of Ferguson, Giggs, Evra and Ferdinand to this and not get some kind of enjoyment out it must be dead inside. You can go and lock yourself in a dark room, rock back and forth crying about how we're 7th in the league and have no right to be laughing at United. Me? I'll keep watching that gif of Ferguson running down the steps chuckling at it. It's not small time, it's called being a football fan.
Dave